While Andorra is mostly known for being a winter destination because of its mountains and the snow activities you can practice, things may be unknown about the many options of things to do off season and all year round. If you stay in Andorra during spring and summer you will get to see the greenest of the landscapes.
For the ones who prefer more chilly weather when summer is approaching,  going to the mountains where the temperature is a little lower, will become your new favorite place. Since summer is approaching, we have put up a great list of activities you can do during this season in Andorra. 
Hiking in Andorra
The country of Andorra is one of the best places to go hiking all year round, especially a good option if you love avoiding the heat of the season in the mountains. The landscapes of this country offer you an unique experience to enjoy breathing the purest air of the Pyrenees.
Among the many hiking routes that you can do, we have selected six popular hiking routes in Andorra, with different levels of difficulty but all of them showcase the beauty of these landscapes. There is the Iron Route, Pessons Lakes and Circus, Circular road on the parish of Canillo, Path of Parcanela, Lakes of Ransol and La Serrera Peak, and Bony de la Pica (check out our full article on hiking in the mountains of Andorra for more information).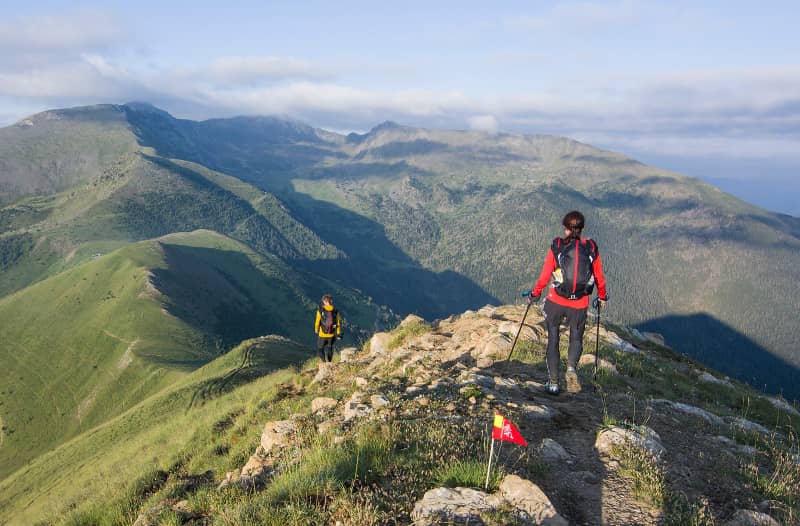 Climbing
In Andorra there are a large number of facilities where you can do indoor climbing. From climbing walls, such as Canillo, Encamp and Ordino, to natural climbing routes of different difficulties.
In Andorra you have at your disposal 16 via ferratas, of all kinds of difficulty and unevenness, both for beginners and for the most experienced. In them you will find Tibetan bridges, walkways or passages with stairs to enjoy nature with this adventurous activity.
If you would like to climb other mountains, we suggest reading this entry that covers the highest mountains and peaks in the country.
Cycling in Andorra is one of the most fun activities in Spring. Now that the snow is disappearing and spring has arrived, the warm and fresh air is perfect for cycling lovers and professionals. 
Andorra has 21 mountain passes and a giant number of road routes for cyclers. Andorra is the perfect country to do the activity, since the altitude of the country makes a recipe for a good workout and great views. Cycling is a popular sport, especially in Andorra, because of the good asphalt conditions. This is also a reason why the Tour de France, the Vuelta España and the Volta Catalunya cross Andorra´s passes in some stages.
The best cycling routes are: 
Coll de la Peguera – Collada de Gallina

Coll d'Ordino – Coll de Beixalís

Coll d'Arcalís – Coll d'Ordino

Engolasters – Camí de les Pardines.

La Massana – Anyos – Font del Mallol

Solanelles – la Llosada – Rigoder – Solanelles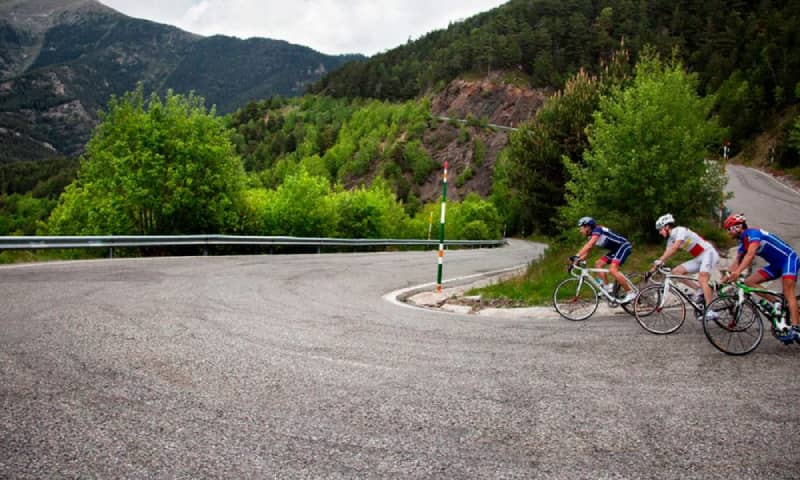 The Mon(t) Magic Park is an area where the whole family can do sports, adventure and leisure activities. It works throughout the year, although the activities vary depending on the season of the year. In Spring and summer seasons are the best to release adrenaline on the 550-metre zip line you can find on the Grandvalira station, in which you can reach a speed of up to 80 km/h. It is open all year round and, in addition to being fun, you have amazing views from it.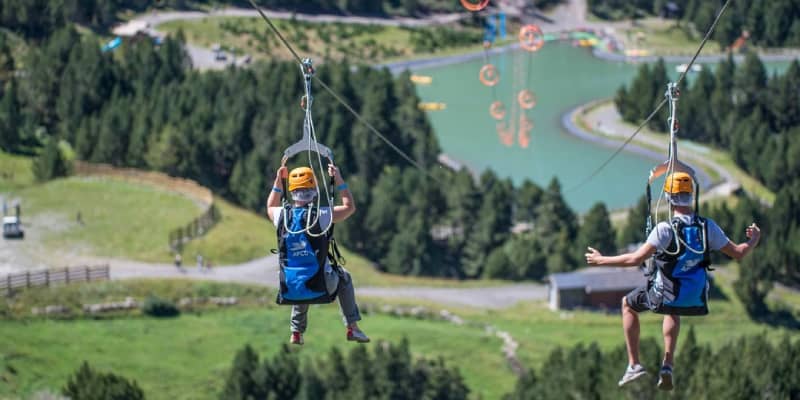 Naturlandia
Naturlandia in Andorra is the largest adventure park in Andorra. The park is located in Sant Julia de Loria, just 15 kilometres away from the border with Spain, the park has many outdoor activities, especially for children. Naturlandia has the largest alpine slide in the world, the Tobotronc, being 5.3 kilometres long. It is located in a very beautiful natural location, with chances of seeing some forest-life such as animals that are native to the Pyrenean mountains. 
Visiting Andorra?
Looking for a unique experience & place to stay?
Book one of our holiday homes in Andorra!
The park, covering 800 hectares, has electric motorbikes, archery courses, an extreme jump, a buggy circuit for children, extreme buggy circuit for adults, a zipline, an airtrack, and of course the Tobotronc.  The park has different altitudes, the esplanade with main rides being at 1,600 metres above sea level, and the starting point of many circuits is at 2,000 metres above sea level. 
The park has many restaurants on-site. The reservations and pricing of tickets can be found here. Prices can be filtered by category and all kinds of tickets can be bought. Since this place is definitely family friendly, accessible to all ages, it is a great trip! 
Play Golf
on the Highest Golf Course in Europe
In the Soldeu sector, which is located within the Grandvalira ski resort, when the snow melts, the Soldeu Golf Course appears. This 9-hole golf course, located at an altitude of more than 2,000 metres, is also the highest in Europe. To get to it you will have to use a cable car that leaves from the centre of the town of Soldeu.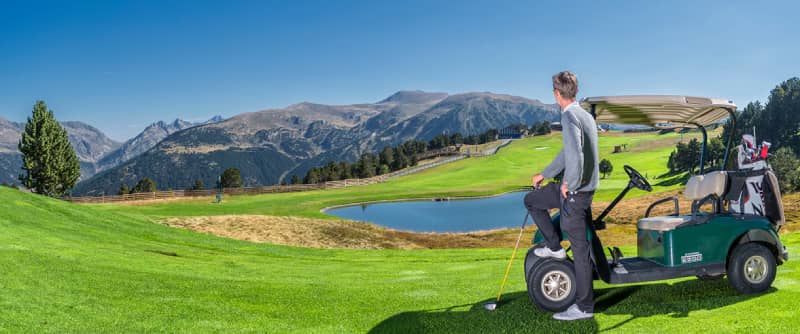 Now that spring is here and summer will be arriving around June and July, the white slopes turn to green. This is therefore the perfect opportunity to do summer activities, such as horse riding, to enjoy the views and landscapes. Whether you are a beginner, intermediate or pro, horse riding in Andorra is for all levels. 
In La Massana, you can find the Aldosa riding club. For children to enjoy the horse riding experience, there is a pony baptism for children between 2 and 9 years old, which is a first contact with the horses that lasts for 30 minutes. For children from 5 to 9 years old who have more experience in horse riding, they can enjoy a ride for one hour. 
At the same horse riding clubs, there are one-hour horse riding trips for adults, which takes place in the woodlands of La Massana at an altitude of more than 1200 metres, from which great views can be seen.
For intermediates, there are two hour trips in a gallop level through the Anyós area, from which the panoramic views on the route are magical. The experts in horse riding have the opportunity to go 2 to 4 days on a trips and group outings, or you can do a next-level 13 day trip on a ride for over 350 kilometres between Andorra, Spain, and France.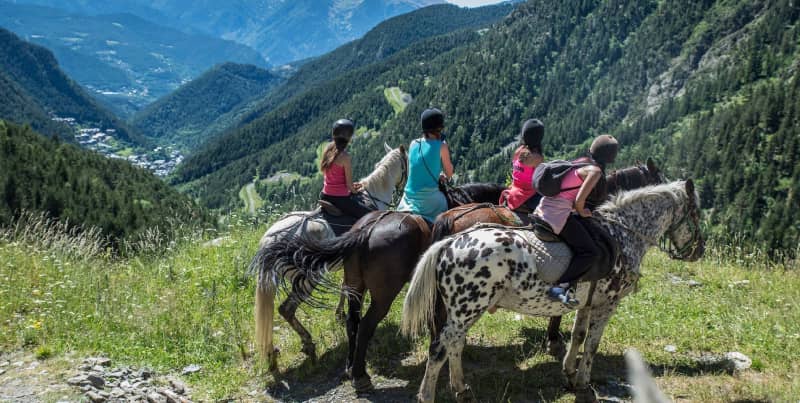 Visit Museums
Andorra has many museums which you can visit. The Museu del Tabac, which was formerly an old tobacco factory from 1909 until 1957. With multimedia systems, the visitors are guided through the factory where work techniques with tobacco, the products manufacture and the commercialization are explained. The museum has tools, devices, machines, furniture, and aromas that were used in the factories. 
Furthermore, there is a perfume museum, Farga Rossel, Museu Carmen Thyssen, Museo Etnografico Casa Cristo, and many more. 
Romanesque Route Andorra
Andorra has a rich heritage of Romanesque style architecture, which includes not only churches, but also bridges, such as the Margineda bridge, in Andorra la Vella, and civil buildings, such as the Casa de la Vall. You can visit all these historical buildings and sites in the Romanesque Route of Andorra (in Spanish, Ruta Romanica Andorra), a must do tour to get to know the history of these mountains and the origins of this alpine country.
In Andorra you can find 44 Romanesque churches from the 12th century. These are small churches with bell towers in the Lombard style, almost all square, such as the church of Sant Joan de Caselles in Canillo or Santa Eulàlia in Encamp.
Spa Relaxation at Caldea Inuu
Caldea Inuu is the largest Thermal Center in Europe; enjoying this spa is one of the best things you can do in Andorra. From the outside, it looks like a spectacular modern building, whose tower is 80 metres high, the tallest building in Andorra. It has an indoor lagoon, which is connected to an outdoor pool. The water in the pools is thermal water, which springs up at 70º and cools down to 33º, so you can bathe in it. 
Inuu is the Thermal Spa only for adults to fully relax and rediscover your well-being in an environment of absolute peace and tranquillity through the extraordinary properties of the thermal waters and the most specialised treatments. These waters have beneficial properties for our bodies and skins, and were already used in Roman times. We recommend you booking a half day relaxation at this oasis in the valley.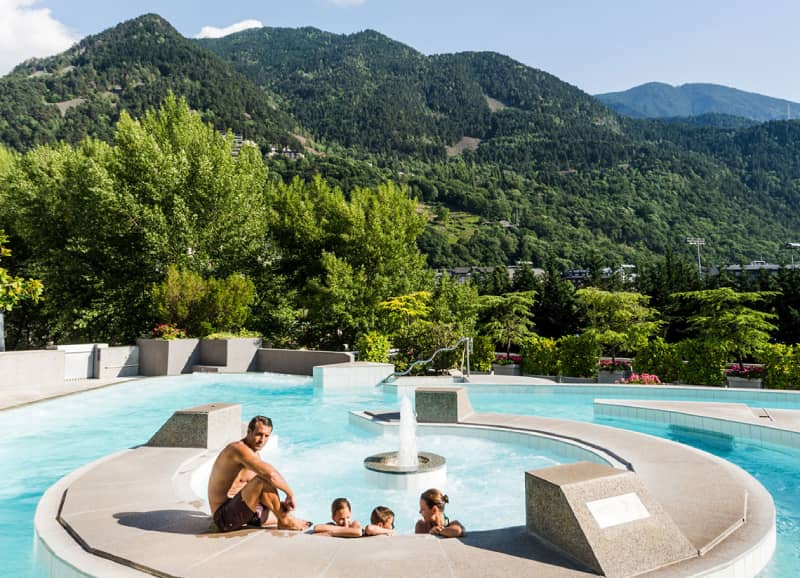 One of the best-known activities that can be done in Andorra all year round is shopping. In Andorra la Vella there are 2,000 shops and its main streets, Meritxell and Carlemany Avenues, are where most of them are concentrated. Here you can find most of the luxurious boutiques and world known brands stores to succumb to shopping.
Purchases in Andorra do not carry VAT, so at least the products are 21% cheaper. A few years ago the difference was much more noticeable in the price, the reason why it was a very popular shopping destination, but even so, today it is still a good claim.
Andorran Cuisine
The Andorran cuisine and the Pyrenean gastronomy plays an important role in the culture of this country. Some of the typical dishes cooked in this region of the pyrenees are the escudella de pagès, which is the most representative spoon dish of the Andorran gastronomy; the chicory salad, which has a bitter taste, but is highly appreciated by Andorrans, or the mountain trinxat, based on cabbage. Its a very mountainous cuisine style, so it's mostly hot soups and stew dishes.
You can relish all of the traditional dishes and flavours in most restaurants in between these mountains. We recommend you check our entries of restaurants in el Tarter and best restaurants in Soldeu, for advising you on where to eat in Andorra.
There are many activities in Andorra someone can do off-winter, that involve rushing adrenaline with incredible views. If you want to know more about the country, we encourage you to read about the Highest Peaks, and the Lakes you can find in Andorra.
Where to Stay During Your Summer Holidays in Andorra?
Are you excited about spending time in the Pyrenees Mountains? There is no better and real experience than staying in Andorra to see the breathtaking views over the mountains and ski slopes. 
From the KOKONO Rentals team, we hope to be part of your journey and to welcome you soon in Andorra!
CHECK AVAILABILITY
MORE EXPERIENCES