We know, Andorra is famed for being a shopper's paradise, its amazing ski slopes, culinary treats, and other amazing winter activities…
But you guessed wrong if you think that's all Andorra has to offer since the country is full of wonderful surprises. Chances are if you´re reading this blog post, you love being outdoors and adventurous, which is why we from the KOKONO Rentals Team think you should check out Family Park Canillo, known as Mon(t) Magic Canillo, Andorra.
Discover what Family Park Canillo and a stay in Andorra has in store for you…
The Family Park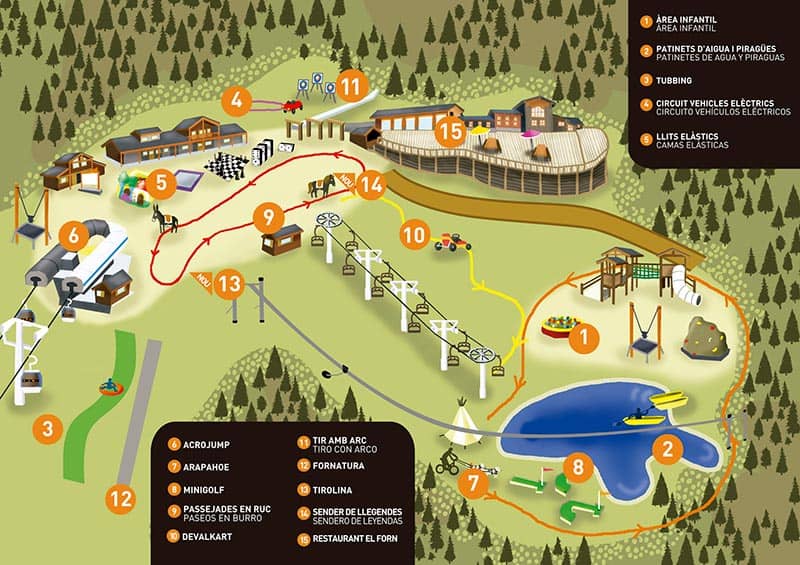 Located in Andorra´s Pyrenees Mountains, the location of Family Park Canillo offers a stunning location to be enjoyed by all ages perfect for an amazing summer in Andorra.
As can be seen on the map of the park, there are many activities to discover including a specially allocated area for children, and other activities focused on adults only. The park are divided in categories, where many activities can be enjoyed for free, and some of which are payed (Adrenalyna Pack). To make things easier, we have listed an overview below of all the areas of the park covering all the details:
Adrenalyna Pack Activities
Magic Gliss 
(3 years and older – under 8 years old and under 135cm must be accompanied by an adult)
A new addition to the park: the Mountain Coaster. This twisting and turning slide will take you over 40 km/h down over more than 555 meters of descent! 
Tyrolean
(for children, minimum weight between 20 and 40 kg.)
Enjoy this zipline (the second longest in Pyrenees!) either alone or with two at the same time. At its highest speed, you will reach 80 km/h! This in combination with being 40m above ground and its 550-meter length is a guarantee for a thrilling experience.
Big Airbag
(6 years and older)
This big airbag will allow you to jump from heights without any worries.
Other Activities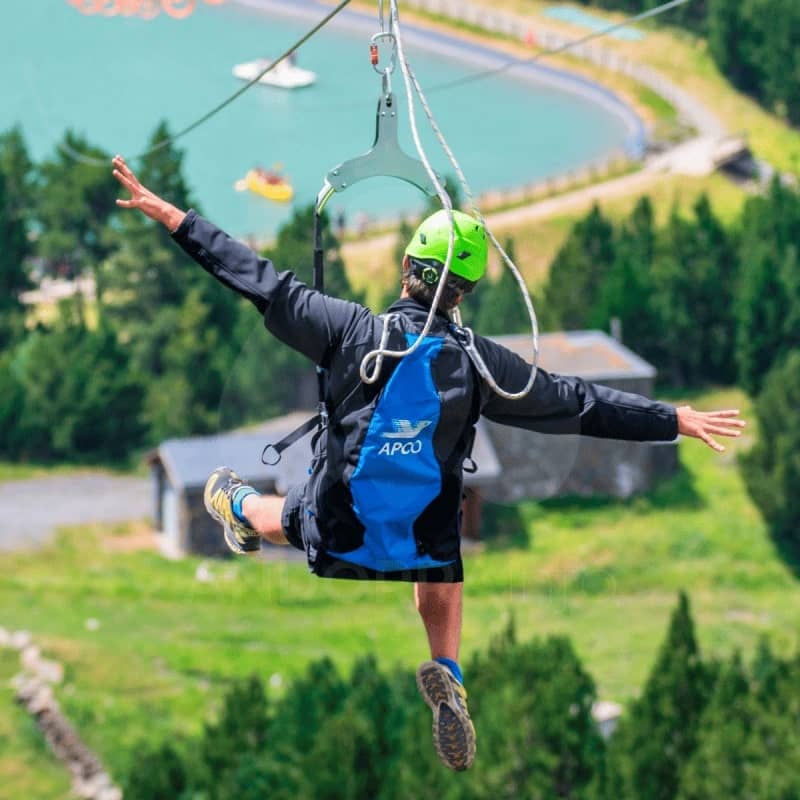 Canoeing & Kayaking in the Lake
(Young children can enjoy this activity if accompanied by an adult)
A great way to truly unwind and enjoy the mountain scenery from the lake.
Take your tickets directly at the park upon availability.
Devalkart
(14 years and older)
Take these motorized karts for a ride downhill through the park!
Visiting Andorra?
Looking for a unique experience & place to stay?
Book one of our holiday homes in Andorra!
And the List Goes On…
Other activities include:
The Children's area (3-13 years old -free)

Minigolf (+3 years old – free)

Tubbing (+3 years old – tickets available at the park)

Acrojump – trampoline with elastic ropes  (+3 years old and adults – tickets available at the park)

Electric Vehicle Circuit (3-5 years old – tickets available at the park)

Trampolines (+3 years old – tickets available at the park)

Archery (+6 years old – tickets available at the park)

Pony Rides (max. weight of 50kg. – tickets available at the park)

Furniture – discover this interactive nature trail to fully experience the nature of Andorra (free)
How to Get to Mon Magic
Canillo TC8 and the TSF Junior cable car can be used to reach the park (only accessible by gondola)
Family Park Canillo is located in the town of Canillo and is best reached by car. Once the town is reached, a cable car takes you up to the park in just over 10 minutes offering stunning views over the Andorran mountains.
After reaching the top you will find yourself surrounded by nature and the beautifully situated lake where the park is built around.
The Information you Want
The park and restaurant can be visited during summertime, meaning from July 4th to September 13th for 2020. Mon Magic opens at 10.00 and closes at 18.00, and activities can be enjoyed according to the following timeframes:
Times for Activities 
Schedule of Activities: from 10.30 a.m. to 5 p.m. (subject to availability).
Possible hours for your activities: 10:30 a.m., 11 a.m., 12:30 p.m., 1:00 p.m., 1:30 p.m., 2:00 p.m., 2:30 p.m., 3:00 p.m., 3:30 p.m., 4:00 p.m., 4:30 p.m., 5:00 p.m.
Tips for Planning Activities / and Buying Tickets
Most individual activities are free, but some require a fee and can be booked on spot at the park. Other activities require to be booked online and are included in the "Adrenalyna Packs" :
Make your reservation online (not available at the park – only available online)

Minimum age +12 years
Activities included in the "Adrenalyna Pack" are:
3 descents Màgic Gliss Slide

3 Big Air jumps

1 descent on the Zip Line
Make sure to book your tickets online ahead of time after the park implemented this to limit capacity and waiting lines. You will be able to book your tickets for a specific time.
Spend the Summer in Andorra
Looking forward to visiting Mon Magic? One thing is for sure, you will be in for a real treat, whether you are visiting the Family Park Canillo, the mountains of Andorra, a shopping trip or a culinary adventure, Andorra has got you covered!
Please come and enjoy a stay in Andorra and discover the beautiful mountains and nature!
check availability
more experiences