If you love cycling and nature, you can't miss this post on our KOKONO blog! 
Spring is gradually arriving in Andorra and the snow is disappearing from the mountains. The green of the vegetation takes centre stage and the climate becomes the best ally for cycling lovers and professionals. 
Andorra has 21 mountain passes and an infinite number of road routes for cycling enthusiasts. The altitude of this country allows you to enjoy a good workout with unbeatable views.
The cycling culture in Andorra is very widespread, so it is also the ideal place to enjoy cycling as a spectator. The good condition of the asphalt roads and their varying degrees of difficulty mean that the Tour de France, the Vuelta a España and the Volta a Catalunya choose Andorra's mountain passes for some stages. 
All in all, too many reasons to visit Andorra if you´re into cycling and other activities in nature!
The Best Cycling Routes in Andorra
Here are the 3 best road routes for cycling lovers:
Coll de la Peguera – Collada de Gallina
This route is ideal if you don't want to travel by car to the start of the route as it is accessible by public transport. It is a route for people in good physical shape, as its level of difficulty is high. The route totals 105 km.
Coll d'Ordino – Coll de Beixalís
This is a circular route with a high level of difficulty. The route totals 70 km and takes just under 5 hours to complete.

Coll d'Arcalís – Coll d'Ordino
A route of just over 70 km that takes around 4 hours and 40 minutes to complete. It is also a circular route from which you can enjoy breathtaking scenery along the entire route.
Find more information about other routes, as well as a map with these routes.
The 3 Best Mountain Bike Routes in Andorra
Here are 3 mountain biking routes for all levels:
Engolasters – Camí de les Pardines.
This is a simple route with a gradient of 10 metres, making it suitable for beginners. It is 3,11 km long and takes about an hour and a half to complete both the outward and return journeys.
La Massana – Anyos – Font del Mallol
This is a medium-level route with few metres of gradient and a distance of 19 km.  It is a circular route, which allows you to constantly discover new landscapes.
Visiting Andorra?
Looking for a unique experience & place to stay?
Book one of our holiday homes in Andorra!
Solanelles – la Llosada – Rigoder – Solanelles
This is a very difficult route for more experienced cyclists. It has a total distance of 13 km and a gradient of 800 metres. It takes approximately two and a half hours to complete this route. 
Events for Cycling Tourists
Every summer the well-known Volta als ports takes place in Andorra. This is a cycling event in which both professionals and cycling enthusiasts take part and which stands out for its good organisation and great atmosphere. 
This event has been organised for 42 consecutive years and allows cycling enthusiasts to enjoy an unforgettable experience as this tour takes in legendary passes from both the Tour de France and the Tour of Spain.
This year it will take place in mid-July and you can already register for Volta als ports.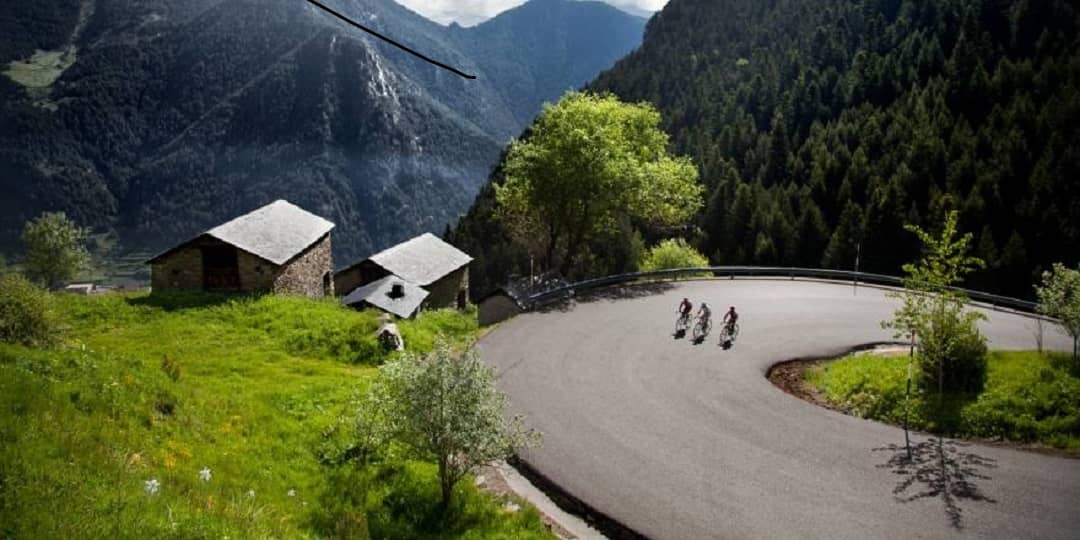 Where to Stay while Cycling in Andorra?
After a tiring day of training and routes, there is no better option than resting in the Chalet with the best views in Andorra. Stop imagining yourself on this terrace having an aperitif after your cycling trip and book your holiday in Andorra now.
Our team is looking forward to welcoming you. 
See you soon!
check availability
more experiences