The winter season is one of the best times to visit Andorra. From sport activities like skiiing, snowboarding and other winter sports, to activities to relax and unwind, the region of Andorra has it all.
Are you thinking of making the trip, and want to see the best places to stay in Andorra? Make sure to not miss anything and read our blog post below about the best activities you can do during a cold winter in Andorra!
Andorra Winter Activities
Mushing Andorra
Dog sledding is always a good idea. Whether it is done alone or with your family, it is always fun as long as snow is lying around. It is an exciting way to explore the snow and landscapes while enjoying the fresh air on your face while at the same time, the dogs enthusiastically pull you forward. The snow, wilderness, and happy dogs make it an unforgettable experience. Mushing in Andorra can best be done in El Tarter and Grau Roig.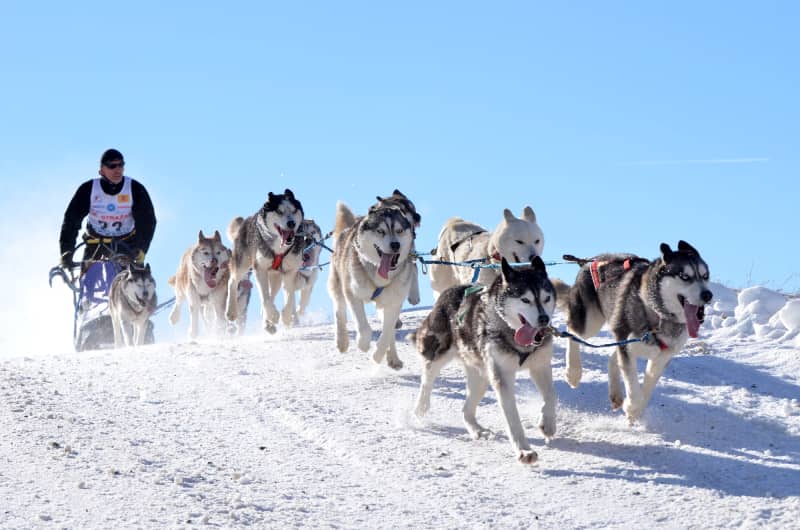 Snowmobile Excursions
Andorra offers many different snowmobile excursions in its diverse areas. It can be a great way to explore the forests and ski slopes. Grandvalira, with its magnificent and impressive mountain scenes is the perfect place to do so. This experience offers explorations of the enchanting winter landscapes of Grandvalira, travelling through the slopes and pine forests. It is a great physical workout, building a strong core, since it requires strengths and flexibility. Snowmobile excursions are great to experience on the slopes of Grau Roig and Pas de La Casa because of the amazing views.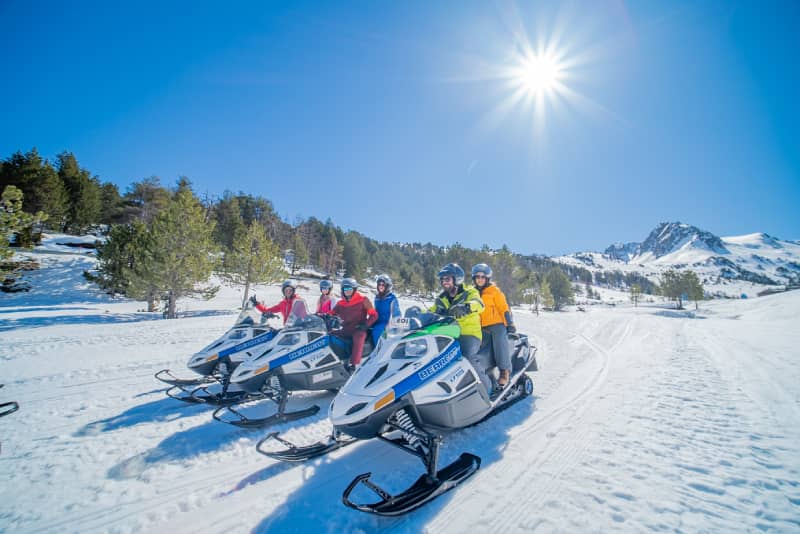 Heliskiing Andorra
Being able to practice Heliski in Andorra is an amazing experience if you love adrenaline rushes and freedom. In remote areas, you can move from one place to another, having a large choice of slopes. 
The activity is aimed at experienced and intermediate skiers with previous off-piste experience, since it can also be a bit risky regarding the powdery off-piste slopes. 
The activity is done with a group of four to eight people, and you will be accompanied by expert guides who will monitor the weather conditions and watch out for the group´s safety.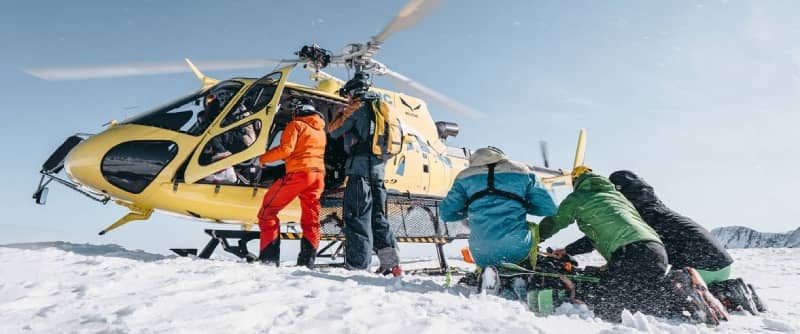 Visiting Andorra?
Looking for a unique experience & place to stay?
Book one of our holiday homes in Andorra!
Snowshoeing Tours
The interest in snowshoeing tours have increased throughout the recent years. With good reason, since it is a great way to explore the region at a slow pace alone, or in a group. It is a unique way to experience the snow in a relaxing and peaceful way. It is a sport reachable for both kids and adults, making it a family friendly experience. It is a great workout and a good way to connect with nature. The activity is the most popular in Pas de la Casa, Grau Roig, and in El Tarter.
Cross-Country Skiing
Skiing is the main thing to do in Andorra in winter. Andorra is known for its quality ski resorts and smooth but daring ski slopes. Cross-country skiing is a form of skiing where skiers rely on their own sense of direction and mobility to move through the slopes. It is widely exercised as a sport and recreational activity. In the sport, skiers move forward by striding forward or side-to-side in a skating motion aided by pushing strength on ski poles. The sport offers peace and tranquillity, getting away from the crowd and enjoying the surroundings, which are a couple of the reasons why it is the perfect sport for when you like less adrenaline in sports. Grandvalira offers 15 cross-country skiing circuits, but the best selected are the ones in Grau Roig and Peretol.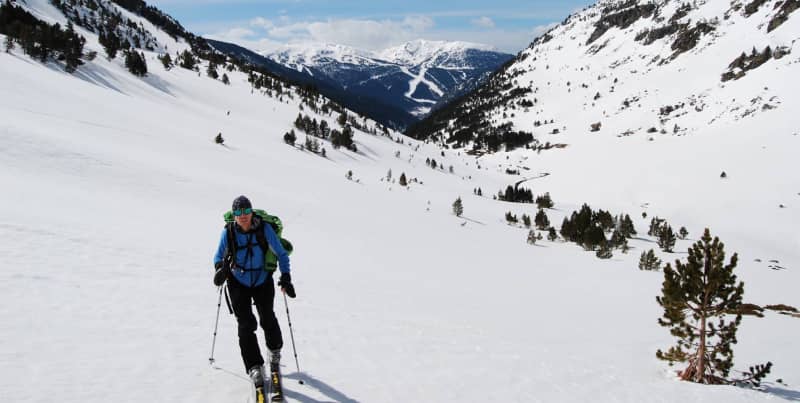 Snow Tubbing
Snow tubbing is an addictive and fairly new winter activity. It is an outdoor sports activity, where you slide down on snow slides on the slopes, in a specially-made tube with a dimpled centre where you can sit. It involves only the tube itself, a helmet, and gravity, pulling you down the slopes at a fairly high speed, depending on the steepness of the slope. A higher and steeper slope is directly proportional to the amount of fun you'll have. Once you are at the foot of the slope, you can go up again with the ski lift. It is a family friendly activity, possible for kids to adults, and no experience is necessary. The best snow tubbing experience is said to be at Grau Roig.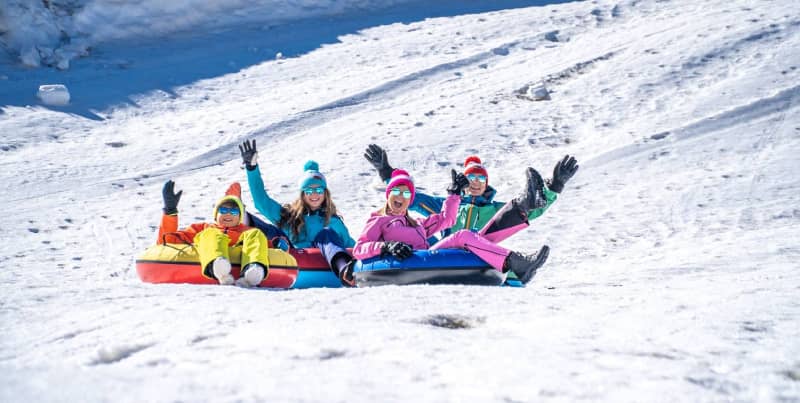 Ice Skating
Only a 10-minute drive away from our holiday rental home, the National Andorra Ice Rink is the best place to go ice skating. It offers a day at the Olympic-standard ice rink, one of the best ice skating experiences in Andorra. Ice skating has both physical and mental benefits, as it improves balance and builds muscle, and a trip to the rink with family or friends is the best way to get outside while also having fun.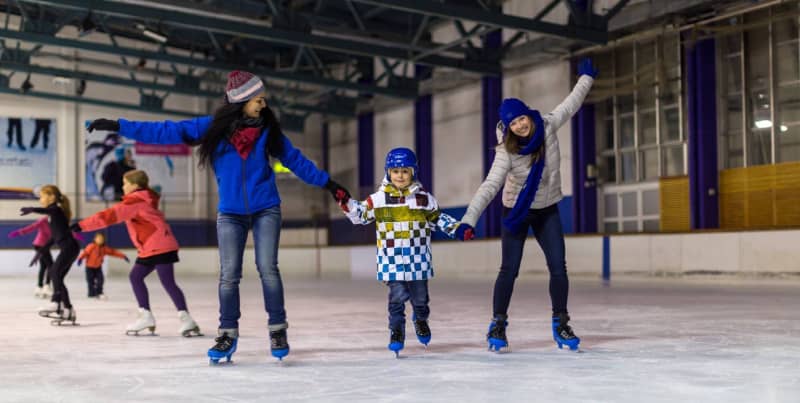 Where to stay?
Are you now getting excited for a ski holiday and wanting to visit Andorra? If you are looking for other Andorran winter activities and Grandvalira activities, we encourage you to check our blogpost for Ski Resorts, Pistes and Stations of Grandvalira, Andorra
From the KOKONO team, we hope to be part of your journey and to see you soon in Andorra! Maybe even in one of our own ski chalets.
CHECK AVAILABILITY
MORE EXPERIENCES