Andorra is a destination you can enjoy every day of the year. With the arrival of spring, the snow melts, leaving the Pyrenees mountains uncovered, making it a very attractive landscape for doing many activities. Staying in Andorra outside the winter season, allows us to enjoy the majestic mountains by ambling, trail running, climbing or even via ferrata.  
If you are a nature lover, keep reading our things to do in Andorra to discover more information about the highest points and mountains in Grandvalira and Andorra so you can prepare for your next adventure in the Pyrenees country!
Which are the Highest Mountains and Points in Andorra?
Pic de Coma Pedrosa
The mountain of Coma Pedrosa is the highest mountain in Andorra and one of the most spectacular. It has an altitude of 2,946 metres. It is considered a Natural Park and its lakes and ponds make it an idyllic place. 
Arinsal is the nearest village from where several walking routes start. If we pass Arinsal, we arrive at Prats Sobirans where we will find the free Comapedrosa car park.
In July the Skyrace and the Ultra de Comapedrosa are held on this mountain. The Skyrace is a 21km race with almost 2300m of vertical drop, while the Ultra is a 50km race with 3800m of vertical drop. 
Pic de l'Estanyó
The mountain of l'Estanyó is the sixth highest mountain in Andorra with an altitude of 2,912 metres. On this mountain, we can also find lakes of glacial origin and discover the many species of flora and fauna that live at such an altitude.  
El Serrat is the closest village to the peak and lake of l'Estanyó. In Canya de la Rabassa there is a free parking area as well as an area equipped with barbecues and picnic tables to enjoy an outdoor meal.
As a highlight, on any of the walking routes, we will find a Botanical Garden that we can visit and learn about more than 700 species of plants and flowers that only find in the Pyrenees!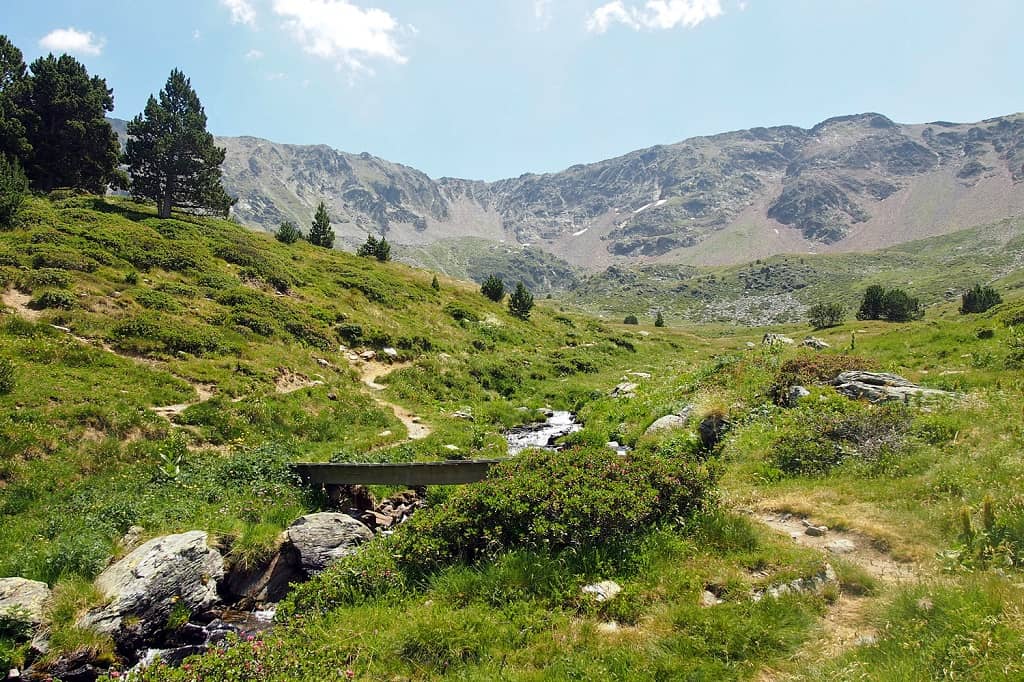 Medacorba Peak
The peak of Medacorba is the fifth highest mountain in Andorra with an altitude of 2,913 metres. It is also known as the mountain of the three frontiers due to its location on the border between France, Andorra and Spain.
It is one of the most spectacular peaks in the Pyrenees. From the highest point we have unique panoramic views and can even clearly see the Pica d'Estats.   
Visiting Andorra?
Looking for a unique experience & place to stay?
Book one of our holiday homes in Andorra!
Its proximity to the Comapedrosa peak means that the more adventurous can do a circular Medacorba – Comapedrosa ambling route, and visit two of the most emblematic mountains with the best views in Andorra on the same route.
This excursion can be done in one day, but if you have more time we recommend you stay overnight at the Estanys Forcats hut and enjoy the route for longer.
As with Comapedrosa, the nearest town is Arinsal, so you can park in the same free car park mentioned in the first section.
What other Mountains, Peaks and Points do we Recommend?
Below we have listed more mountains that are definitely worth the visit.
Also, you can see some of the mountains live on our grandvalira webcam feed, if you can´t wait any longer to see Andorra´s beautiful nature in person!
Pic de la Serrera – 2.914m

Agulla de Baiau – 2.908m

Pic de Font Blanca – 2.903m

Pic de l'Estany Esbalçat – 2.899 m

Tossa Plana de Lles – 2.898m

Pic de Centfonts – 2.888m

Pic de Tristaina – 2.879m

Pic de Baiau – 2.879m

Pic de Setut – 2.877m
In case you can´t wait to see Andorra´s beautiful views you can check out our live webcam of the ski pistes and mountain slopes:

Where can I stay in Andorra?
As we have seen in this blog, there are many wonderful mountains, landscapes and peaks to explore in Andorra. However, the best place to stay in Andorra is always the KOKONO Rentals Chalet, where you can relax and still enjoy the best views.
We look forward to welcoming you soon!
check availability
more experiences