With the arrival of autumn, it cools, the sky paints gorgeous colours at sunsets and the first snow starts falling down. A good thing is that there is always something to when visiting Andorra! In today's KOKONO Rentals blog, we will talk about the most spectacular lakes in the country, ideal routes and excursions with spectacular views that you will hardly forget.
Did you know how many lakes there are in Andorra? The small country has more than 60 lakes throughout the territory, all surrounded by beautiful mountain peaks and stunning natural scenery.
If you are planning your route or excursion to any of the lakes, we recommend you have your own car, since the public transport system doesn't reach most of the starting points of these routes. We invite you to read on and discover the best lakes to visit in Andorra!


Routes and Excursions around Andorra's Lakes
The land in Andorra is not precisely what we call flat, since the country is mostly covered by the Pyrenees. Its mountainous landscapes offer routes for all levels, even for those who are more experienced and seek adventure.
Keep in mind to read carefully which lakes are allowed to swim if you´re looking to take a dop. Many of the lakes are protected reserves or provide a source of energy to hydroelectric power plants. If not, maybe it would be a good idea to take a dip at Caldea. The same applies to fishing and boating.


The 7 Lakes Routes of Andorra
Below we have listed 7 routes in ascending order of difficulty, which you cannot miss: 
Lago de Engolasters

Los Lagos de Tristaina

El Lago Juclà

Los Lagos Siscaró

Lagos Pessons

Estanque de Montmalús

Lago de la Nou

Other lakes to visit
List of Lakes In Andorra
Engolasters Lake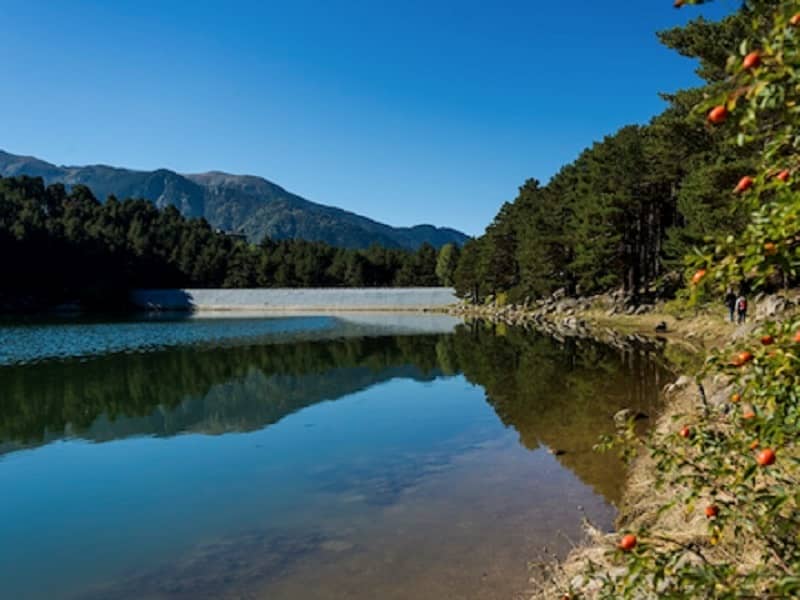 1.616 m altitude
2 km itinerary
400 m elevation
La Mola parking
This route is ideal to go with the family due to the ease of the tour and its proximity to Andorra la Vella. In case you want to do the excursion on foot from the main city, you will have to walk approximately 40 minutes along a short and straight path. Please note that bathing is not allowed on this lake.
Tristaina Lakes
2.306 m altitude
4,4 km itinerary
200 m elevation
Ordino Arcalís parking station
Among the lakes of Ordino, you can find the first lake of Tristaina. The route through the lakes of Tristaina is another highly recommended route for those with the smallest members of the family taking part, due to the friendliness of its trails. During the tour, you will get to observe a Pyrenean glacial circus and you can even take a dip in its ponds!
Juclà Lake
2.327 m altitude
9,5 km itinerary
465 m elevation
Baladosa parking
The crystalline clear blue waters of the first of the lakes make this route the perfect habitat for the Pyrenean brook salamander, which can only be found in specific places. It is important to bear in mind that during the summer months access to the Incles Valley is closed but can be accessed by electric train. A more complete and in detail description can be found in the route itinerary (download pdf). In this lake, bathing is also allowed.
Siscaró Lakes
2.704 m altitude
7 km itinerary
580 m elevation
Valle de Incles parking
Visiting Andorra?
Looking for a unique experience & place to stay?
Book one of our holiday homes in Andorra!
This route is hardly difficult, offers really scenic views and has a great variety of landscapes and fauna. What makes this Andorran lake special are the wetlands that grow around it, where the Cisca is found, the plant that named the lake.
Pessons Lake
2.510 m altitude
8,2 km itinerary
430 m elevation
Cubil parking
The excursion to the Pessons Lakes is the route that allows us to discover more lakes in this beautiful country. During its circular lake route, we will find up to 6 different ponds where you can enjoy a refreshing bath. From this place, we also recommend stopping to eat at Pessons Restaurant, with a menu of exquisite traditional food. If it doesn't convince you and want to know more about our recommendations from the gastronomical offers El Tarter or Soldeu´s restaurants, you can check them out and they'll make your mouth water.
Montmalús Pond
2.704 m altitude
5,4 km itinerary
604 m elevation
Grau Roig parking
This route is a marvelous stroll to breathe the purest air from the Pyrenees.
Nou Lake
 2.280 m altitude
 13 km itinerary
 1.150 m elevation
 Natural del Valle de Madriu-Perafita-Claror Park parking
The route of Nou Lake is without a doubt one of the hardest, mainly due to the elevation the land presents. Rocky peaks, glaciers and forest is what you will find that won't leave you unimpressed. This route is recommended only to the most experienced people, due to its difficulty and its rugged terrain. The water is great for bathing, although yes, it may be somewhat cool.


Which Other Lakes and Ponds Do We Recommend Visiting in Andorra?
Moreno Lake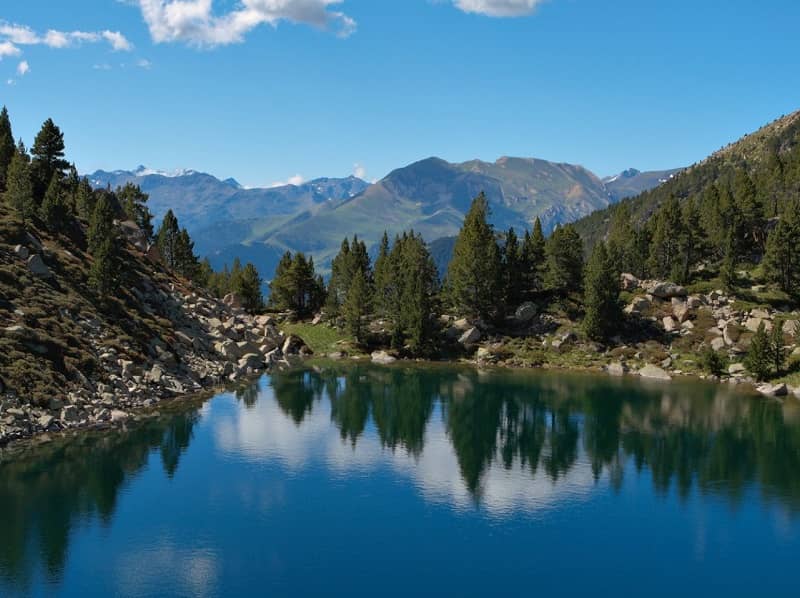 2.500 m altitude
8 km itinerary
500 m elevation
Situated in Encamp, it is said, is one of the most secret lakes because it's not indicated by any signage. Although it is not difficult to find it, it is located in the right direction to the right of the Ensagements pond.
Estanyó Pond
2.915 m altitude
11 km itinerary
1.175 m elevation
Located at Ordino, this route offers a unique landscape in which you will be able to encounter several species of flora and fauna typical from the high mountains, including some unique bird species. This trail is a botanical paradise that will leave your eyes in awe, and will give you a true experience of Pyrenean nature.
Truites Lake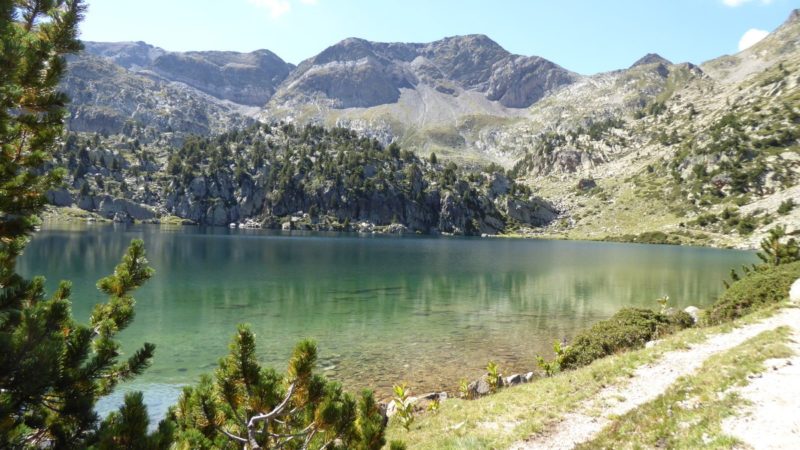 2.260 m altitude
8,2 km itinerary
740 m elevation
Located in the Massana region, this is an easy route and accessible to everyone.
Valle de Madriu Lakes
2.870 m altitude
13,6 km itinerary
1.180 m elevation
This scenery of glacier origin, it's an adrenaline rush for those who are more adventurous and experienced who want to enjoy nature in its purest form.


Where to Stay When Visiting Andorra´s Lakes?
Now that you know the best routes and excursions to see the different lakes and beautiful landscapes of this country, what are you waiting for to plan your Andorra getaway!
From the KOKONO Rentals team we are looking forward to welcoming you during your stay in Andorra!
CHECK AVAILABILITY
MORE EXPERIENCES