In addition to all the places to stay in Andorra, the Caldea Spa Andorra is a must-visit! Since its opening in 1994, Caldea Andorra has become a popular site for both tourists and locals. The thermal spring leisure concept and the amazing facilities have made it into Andorra´s main attractions.
Furthermore, it is the largest wellness centre in Southern Europe, having 18 floors, a space of 6,000 square metres and 80 metres in height, making it the tallest building in Andorra.
Areas & Information about Caldea
Caldea Inuu Andorra Spa
The Caldea Spa Centre is a well-rounded spa centre, as it mixes wellness, health, and fun, to offer thermal spa leisure. In the spa, natural waters flow through the spaces at different temperatures, rich in mineral elements that work as healing and decongestants, and it has anti-allergy components.
However, the main reason why Caldea is so popular and attracts many visitors to the region of Andorra is because of the thermal spring waters, which includes waterfalls, jacuzzis, hydromassage jets, and many other ways of relaxation. Caldea is organised around four spa areas: The Thermal Spring Leisure Spa, The Inúu Spa, The Origins Spa and The Likids Spa.
Thermal Spring Leisure Spa 
The Thermal Spring Leisure spa offers a large indoor lake with thermal spring water at a temperature between 32 ºC and 34 ºC and an area with Indo-Roman baths, where visitors can relax and benefit from the minerals in the waters.
Fitness services, saunas, aqua massages and relaxing lightning.
Large Indoor lake and outdoor areas with mountain views.
Age entry: 5 years old onwards
For the calendar and opening hours, we recommend you to check their website.
Origins Spa 
The Origins Spa has many things to offer, including several thermal baths, a grapefruit bath located in a Japanese garden, and an outdoor jacuzzi with breathtaking mountain views.
Turkish Bath, Aztec Bath and Grapefruit Bath
Outdoor jacuzzi, sauna, private solarium, hammam, water beds and water bar.
Age entry: Wellness Centre for adults entry with exception from kids aged 3-16 if their tutor accompanies them.
For the calendar and opening hours, we recommend you to check their website

.
Inuu Spa 
Inuu Spa focuses on one thing only: wellness.  From the outside, it looks like a spectacular modern building, whose tower is 80 metres high, the tallest building in Andorra. When entering the rooms, time stops and you can feel the atmosphere of relaxation and peace.
An adults-only sector of Caldea Thermal Spa.
Wellness centre, thermal waters pools and waterfalls
Reactivation and relaxation space, and a gym
Treatments and massage services
Age entry: Adults only +16 years old; no exceptions made for minors.
For the calendar and opening hours, we recommend you to check their website

.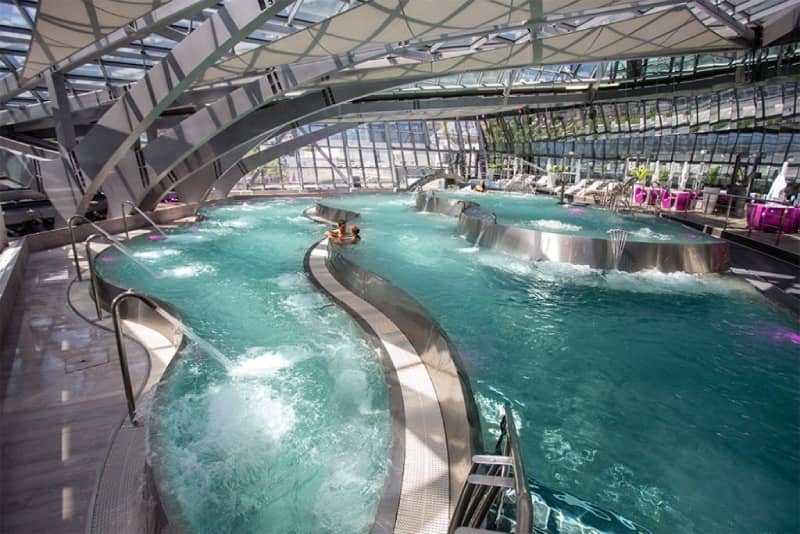 Likids Spa 
The Likids spa is a space dedicated to kids, where relaxation and fun go together resulting in an unforgettable day for little ones.The Likids spa offers a thermal lagoon, a soft beach, a sauna lounge, a beauty space, a jacuzzi, and a fitness area.
Pools, Jacuzzi, workshops and shows.
Age entry: Only kids from 3-8 years old accompanied by adults.
For prices, times, offers and other details, we recommend you to take a look at the official Caldea website

.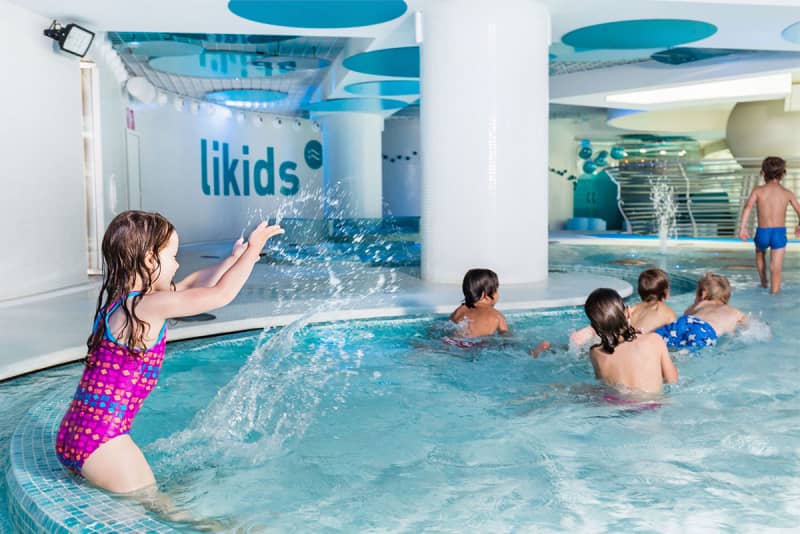 Visiting Andorra?
Looking for a unique experience & place to stay?
Book one of our holiday homes in Andorra!
Information about the Spa
Prices and tickets to Caldea 
You can purchase multiple options for entering at any of the Caldea spas. Ticket prices go from 31€  a single entry to 199€ for the 5-day pack to Inúu.
You can book a single entry ticket and multipacks for all the different spas
Day packs for one or all spas
Family Packs
For bookings and reservations:
Book Now
Where is Caldea located at? 
The exact address is: Parc de la Mola, 10, AD700 Escaldes-Engordany, Andorra (get directions).
Caldea Thermal Spa is located in the Andorran town of Les Escaldes, the neighbouring town of the main city in Andorra, Andorra la Vella, which makes it very accessible and convenient for everyone.
Where to stay during your visit to Andorra´s Caldea Spa?
Are you excited to relax at one of the best spas in Andorra? The region of Andora really offers some of the best places to stay when you´re looking to unwind and relax.
Ready to discover Andorra? From the KOKONO team, we hope to welcome you soon at one of our holiday rentals!
check availability
more experiences