Andorra is known for its ski resorts and slopes, nature and mountains, tax-free shopping, and above all, wellness centers. Having the largest spa in Europe, Andorra's Spas are famous, with more than 400,000 visits each year to relax in its mineral indoor and outdoor jacuzzis, swimming pools, and hydrotherapy sections. When staying in Andorra, a relaxing spa day is a perfect way to enjoy your days. When being interested in the wellness centers and spas of Andorra, then scroll down and keep reading to find out more! In this blog, we´ll cover:
Caldea Inuu
Caldea Inuu Spa in Andorra has become a popular site for both tourists and locals since it opened its doors in 1994. The thermal spring leisure concept and the amazing facilities have made it into Andorra´s main attractions and it is the largest spa center in Southern Europe. 
The Caldea spa center is an original spa, as it mixes wellness, health, and fun, to offer thermal spa leisure. There are natural waters, which flow at diverse temperatures and are rich in sulfur and other mineral elements, that work as healing, and decongestant, and it has anti-allergy components. However, the main reason why Caldea attracts so many visitors is because of the thermal spring waters. Waterfalls, jacuzzis, hydromassage jets, and many other things offer relaxation. The Caldea spa is organized around four spas: the thermal spring leisure spa, the Inúu spa, the Origins spa, and the Likids spa. 
Thermal Spring Leisure Spa 
The Thermal Spring Leisure spa offers a large indoor lake with thermal spring water at a temperature between 32 ºC and 34 ºC and an area with Indo-Roman baths, where visitors can relax and benefit from the minerals in the waters. Furthermore, it offers fitness services, which consist of aqua massages and saunas, and relaxing lighting. Above all, there is an outside area with the best mountain views. 
Origins Spa 
The Origins spa has thermal baths, along with an Aztec bath, a grapefruit bath, and an outdoor jacuzzi with mountain views. There is also a Turkish bath and sauna.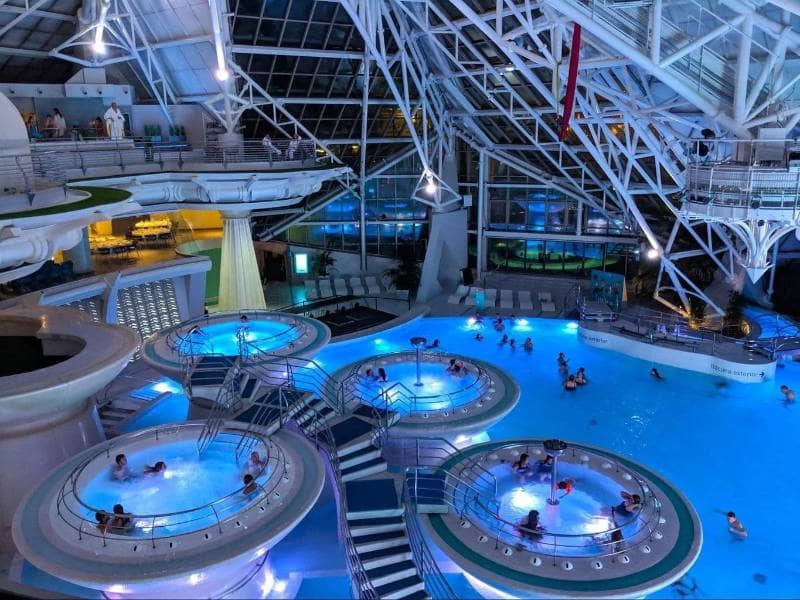 Inuu Spa 
The Inuu Spa is adult-only access to Caldea. It focuses on one thing only: wellness. When entering the rooms, time stops and you can feel the atmosphere of relaxation and peace. There are indoor- and outdoor thermal water pools with waterfalls, water seats, and swan necks that offer a great massage. 
Likids Spa 
Lastly, the Likids spa includes activities for children aged 3 to 8. For younger children in this spa, relaxation, and fun go together which results in an unforgettable day for little ones.  The kids will be guided through their first spa experience by wellness technicians, which include jacuzzis, workshops, and shows. 
For prices, offers, times, hotels, and other details, we recommend you to take a look at the Caldea website. 
Address: Parc de la Mola, 10, AD700 Escaldes-Engordany, Andorra (Get Directions)
Opening Hours: Monday-Friday 10AM-10PM
Saturday-Sunday 9AM-10PM
Phone: +376 800 999
caldea.com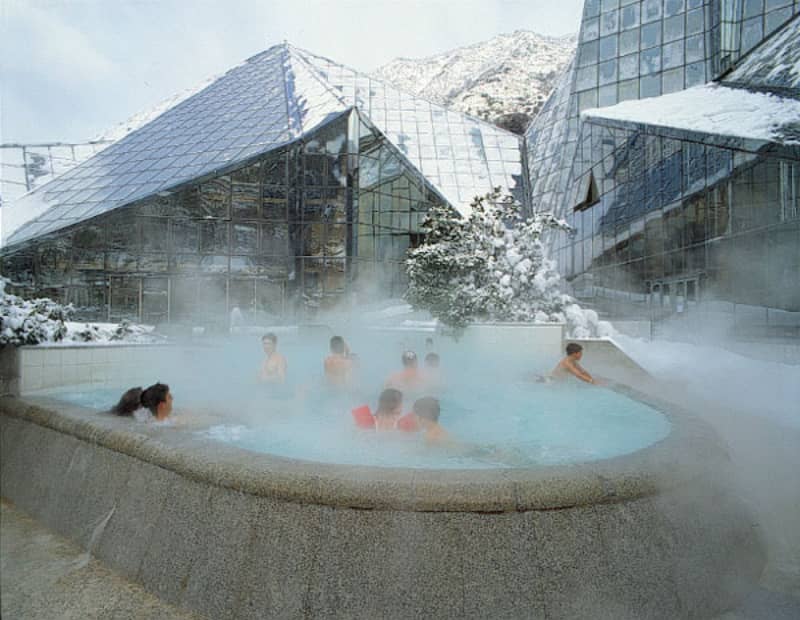 Hermitage Sport Wellness Mountain Spa
Between the high peaks and deep lakes around the Valira River, the Hermitage Sport Wellness Mountain Spa can be found. This is a unique Andorran spa-hotel experience where you can enjoy 5000 square meters of relaxation, out of the busyness of the villages and typical tourist attractions. Located at the foot of the Grandvalira ski slopes, between the freshwater, mountains, and forests of the Pyrenees, it will allow you to be in perfect peace and unity with nature. 
Being 1,850 meters above sea level, the Hermitage spa offers a health paradise with the properties and benefits of the natural environment that surrounds the place, as an inspiration to develop optimal beauty and health treatments for your well-being. There is a diversity of beauty treatments designed to renew energy and connect with nature, and as a getaway to your comfort, disconnection from routine, and rediscovery of yourself. 
Even though the spa hotel of Sport Hermitage Spa in Andorra is closed from the 18th of April until the 2nd of June, going hereafter in summer is definitely worth the wait. The environment and quiet atmosphere make it one of the most spectacular spas in Southern Europe.
The Sport Wellness Mountain Spa facilities are only for people over 13 years of age, and guests between 13 and 18 years old must be accompanied by an adult and present ID documentation attesting to their age. To access the spa it is necessary to use swimwear and flip-flops, and it is necessary to book an appointment before entering. 
When wanting to stay at the spa facility for multiple days, you can also make use of the 5-star hotel. In its rooms, luxury and quality can be appreciated with spacious reading and resting rooms with great and spectacular views, where a cozy atmosphere is created. 
For prices, offers, times, hotels, and other details, we recommend you to take a look at the Hermitage Sport Wellness Mountain Spa website. 
Address: Crta General II – Tram Soldeu 56, AD100 Canillo, Andorra (Get Directions)
Opening Hours: Monday-Thursday 12-8PM
Friday-Sunday 10AM-9PM
Phone: +376 870 510
sportwellness.ad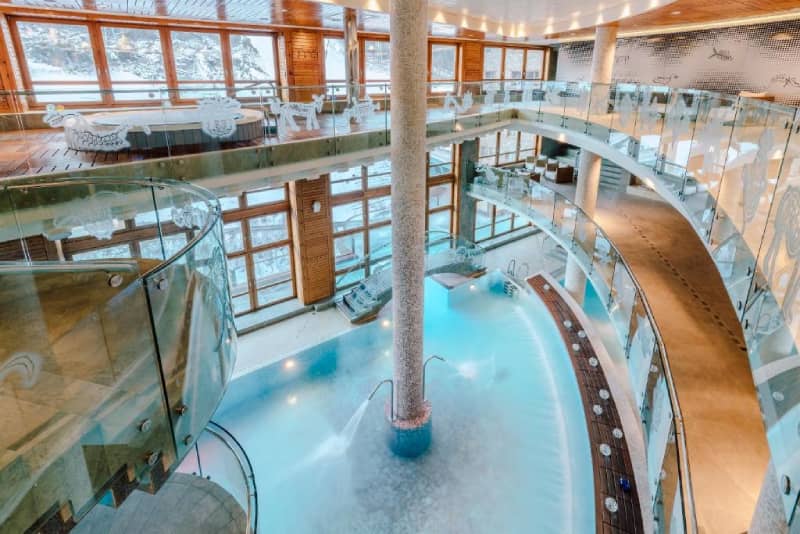 Hotel Spa Termes Carlemany 
In the hotel in Escaldes-Engordany, a thermal spa can be found where you can live a complete wellness experience with a spa circuit equipped with hot water from a thermal spring. In the spa, you can enjoy a jacuzzi, hammam, sauna, fitness room, Turkish bath, massage treatments, and more. All of this will give you an ideal environment to rest and relax. 
To clear your mind and relax your body alone or with family and friends, we have specific rooms for treatments. 
Visiting Andorra?
Looking for a unique experience & place to stay?
Book one of our holiday homes in Andorra!
The Hotel Spa Thermes Carlemany is located in the main commercial area of the princedom, and it is a unique place in Andorra to enjoy the holidays. It is near the shopping and leisure center Illa Carlemany, the water museum, Caldea Spa, and the ski slopes. If you book a visit to the spa on the website, you have access to the free spa circuit, others who do not book upfront have a cost of €2 per person. 
For prices, offers, times, hotels, and other details, we recommend you to take a look at the Hotel Spa Termes Carlemany website. 
Address: Av. Carlemany, 4, AD700 Escaldes-Engordany, Andorra (Get Directions)
Phone: +376 870 050
hotelcarlemany.com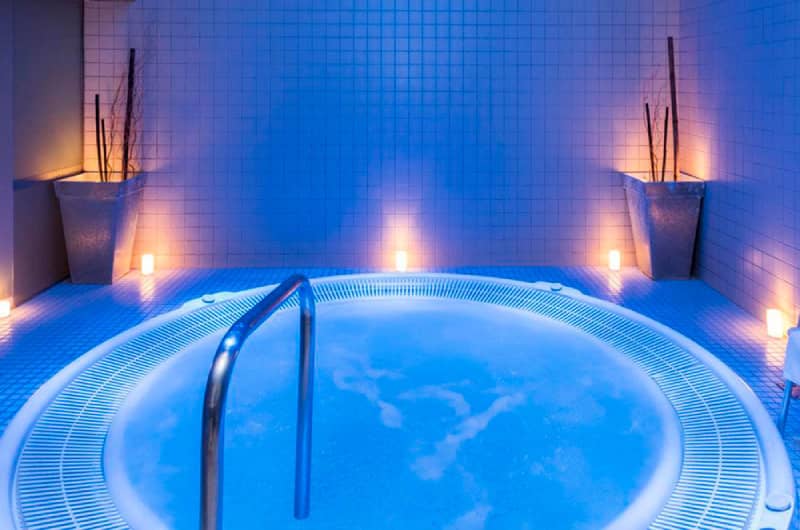 Hotel Roc Blanc Andorra
The Roc Blanc Thermal Spa opened more than forty years ago, now being pioneers in hydrotherapy. It is internationally acknowledged for the properties and natural minerals and medicinal quality of the water. The physical-chemical composition, together with the location of the Spa, adds great value to the services and therapies. The thermal waters of 70⁰ C have sodium sulfate with a presence of sulfur, which is recommended for bone, arthrosis, respiratory problems, and antistress therapies. 
The facilities consist of a thermal pool, thermal jacuzzi, sauna, Turkish bath, and a cardiovascular area. 
The spa is not available to pregnant women, because of security reasons. For prices, offers, times, hotels, and other details, we recommend you to take a look at the Hotel Roc Blanc Andorra website. 
Address: Plaça Coprínceps, 5 – AD700 – Escaldes – ANDORRA (Get Directions)
Phone: 00376 871 400
rocblanc.com
El Golden Tulip Andorra Fénix Hotel
The Tulip Inn Andorra Fénix Hotel is located next to Carlemany avenue in the heart of the shopping district of Escaldes and Andorra la Vella. It is close to Caldea Spa, and it is a few minutes drive from the Grandvalira Vallnord ski resorts. It offers water facilities and a solarium. For prices, offers, times, hotels, and other details, we recommend you to take a look at the El Golden Tulip Andorra Fénix Hotel website.
Address:Carrer del Prat Gran, 3-5, AD700 Escaldes-Engordany, Andorra (Get Directions)
Phone: +376 760 760
andorrafenixhotel.com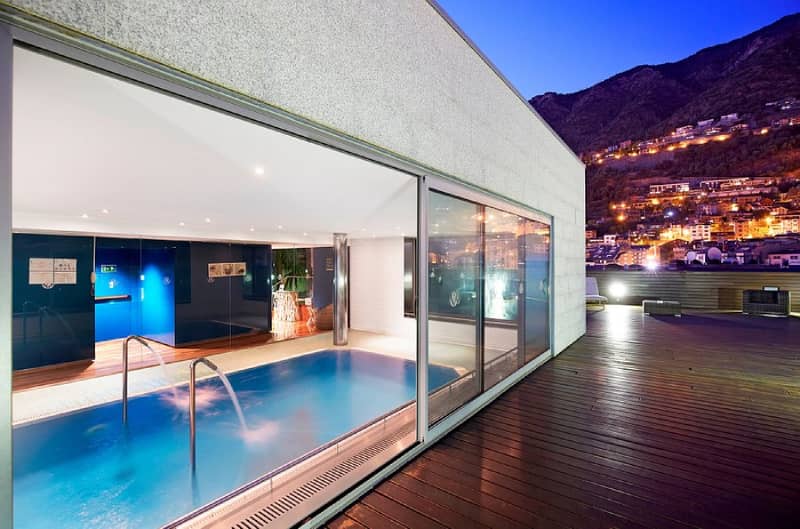 Hotel Plaza Andorra La Vella 
The Hotel Plaza Andorra offers the one and only family spa and fitness in the country, which is a revolutionary concept in the wellness centers world, which is designed to enjoy a day with your family. It consists of a gym, heated swimming pool, body and beauty treatment rooms, Finnish sauna, hammam, relaxation area, and activities area. 
The spa has a hydrotherapy circuit with different hydromassage areas to facilitate the activation of the body´s different functions, such as the blood vessels and muscles. Moreover,  there are warm stone beds for rest and relaxation, together with a hammam and sauna that provide multiple benefits such as improving the skin, and help with respiratory and blood circulation stimulation. Also, there are contrast showers with different pressures.
For prices, offers, times, hotels, and other details, we recommend you to take a look at the Hotel Plaza Andorra La Vella website.
Address: Na Mª Pla 19-21 Andorra la Vella (Get Directions)
Phone: +376 8794 44
hotelplazaandorra.com
Where to stay during Andorra´s Spa visit?
Are you excited to relax at one of the best spas in Andorra? The region of Andora really offers some of the best places to stay when you´re looking to unwind and relax.
Ready to discover Andorra? From the KOKONO team, we hope to welcome you soon at one of our holiday rentals!
CHECK AVAILABILITY
MORE EXPERIENCES