In this blog post, we'll explore the exciting viewpoints and panoramic Andorra views as one of the reasons for making Andorra one of the best places to stay. When it comes to breathtaking scenery, Andorra is an special place waiting to be discovered. From Roc Del Quer to Tristaina Solar Viewpoint, we will take you on a visual journey through this enchanting destination, complete with selfie tips and more!
Summary
The 5 Best Andorra Viewpoints
Andorra boasts an impressive total of 24 viewpoints, each offering its unique charm and scenic beauty. In this article, we will focus on the top five, taking you on a tour of the most captivating and accessible views. Additionally, we'll provide a quick overview of the remaining viewpoints, so you can plan your future explorations accordingly.
Roc del Quer Viewpoint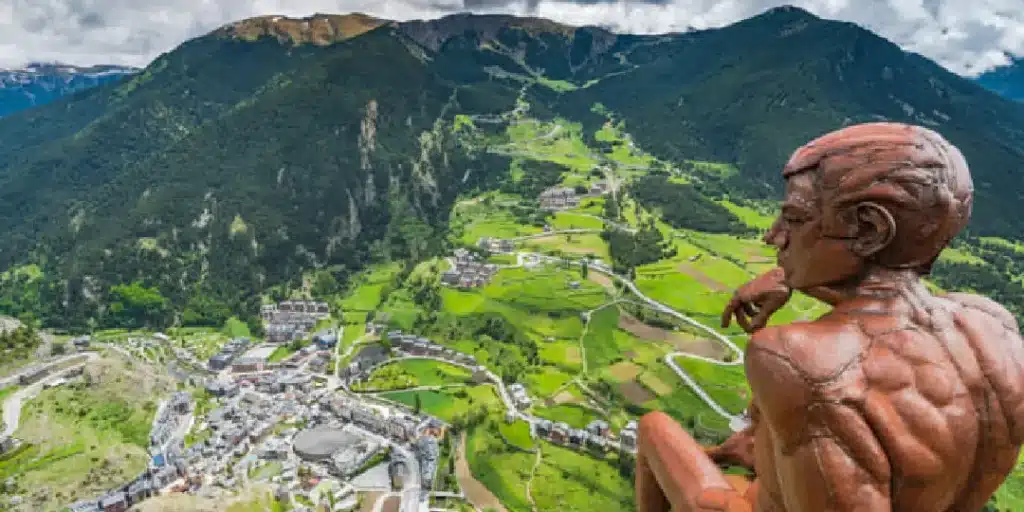 Location: Parish of Canillo
The Roc del Quer viewpoint in Canillo, offers an unforgettable experience with its breathtaking 360-degree panoramic views of the Pyrenees. It has quickly become one of Canillo's top attractions, drawing adventure seekers and those looking for a more relaxed experience alike.
This remarkable Andorra view features a 20-meter walkway, with 12 meters seemingly suspended in the air, thanks to a transparent glass section added in 2016. It offers visitors a unique sense of levitation above the most beautiful valleys. At the walkway's end, you'll be greeted by "The Ponderer," a sculpture by Miguel Ángel González. The view from the Mirador del Quer encompasses the stunning Montaup and Valira d'Orient valleys, which are lush green in the summer and covered in a snowy blanket during the winter months. Additionally, you'll find informative displays about the geological processes that have shaped these majestic mountains. Don't miss this incredible opportunity to appreciate the grandeur of Andorra's natural beauty at Roc del Quer.
Tibetan Bridge
Location: Parish of Canillo (Near Roc Del Quer)
The Tibetan Bridge ¨Pont Tibetà´ in Canillo might not be your typical viewpoint, but it offers a thrilling adventure high above the landscape, granting you access to breathtaking views that will leave you awestruck. This impressive 603-meter-long structure elevates you 185 meters above the ground, placing you at an altitude of 1,884 meters. It offers an unmatched opportunity to immerse yourself in the majestic views and experience the thrill of being surrounded by nature at its finest.
Tristaina Solar Viewpoint
Location: Parish of Ordino
At the Tristaina solar viewpoint in Ordino Arcalís, you have the opportunity to enjoy some of the most stunning Andorra views and the Pyrenees. Perched atop Peyreguils peak at an elevation of 2,701 meters near the French border, this viewpoint is surrounded by other mountain peaks that together form the Tristaina cirque, including Costa Rodona, Tristaina, Creussans, and Cabanyó.
The Tristaina viewpoint itself is a remarkable spherical suspension platform with a diameter of 25 meters. It offers a superb vantage point to take in the picturesque landscapes of the Tristaina lakes and the Ordino Valley. Accessing this extraordinary location is incredibly convenient; all you need to do is take the Tristaina cable car and then hop on the Creussans chair lift, both of which will drop you off just a short distance from the view.
Roc De Senders Viewpoint
Location: Along the road leading to La Comella and La Plana
At the Roc de Senders viewpoint, you'll have the opportunity to behold Andorra's towns and cities in a completely new light. This vantage point offers breathtaking panoramas of the cityscapes of Santa Coloma, the capital city Andorra la Vella, and the town of Escaldes-Engordany. On the distant horizon to the northwest, you'll even catch a glimpse of Pic de Carroi, a summit that rises to over 2,300 meters and can only be reached by 4×4 vehicles or on foot. Whether it's summer or winter, the Roc de Senders viewpoint welcomes visitors year-round.
Mirador de La Comella
Location: Andorra la Vella
The La Comella viewpoint in Andorra la Vella is a special place for enjoying stunning views and capturing beautiful scenes with your camera. From here, you can see some of the country's most impressive mountains. In the foreground, there's the majestic Pic de Carroi (2,334 m), and in the distance, you'll spot the impressive Pic de les Fonts (2,748 m) and the Pic del Pla de l'Estany (2,859 m). Despite Andorra la Vella's lower elevation at 1,023 meters, you can still get a great view of it from here. The viewpoint itself is even higher at 1,319 meters. It´s just a short drive from the capital city, Andorra la Vella, along a scenic road.
Discover More Andorran Viewpoints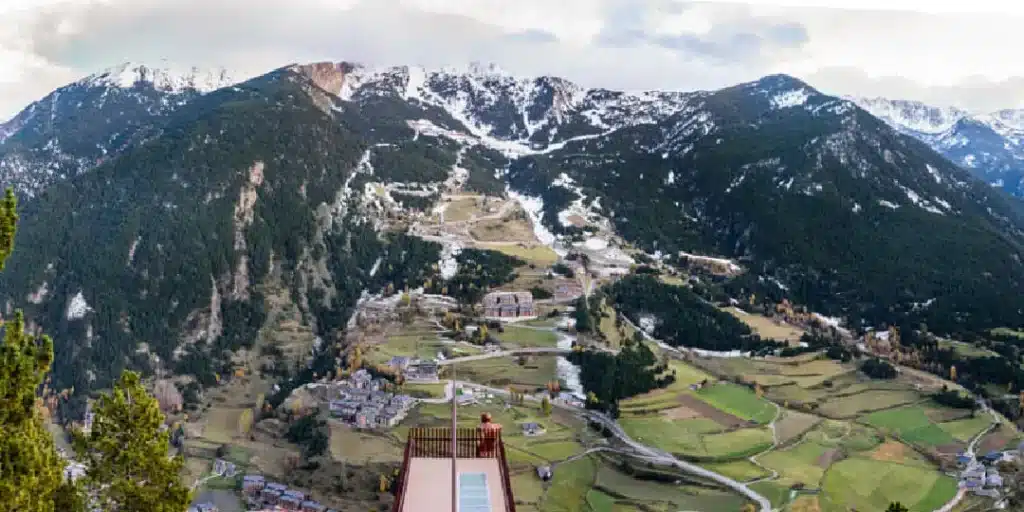 While our focus here has been on the top five viewpoints, Andorra has a total of 24 viewpoints, each offering its unique charm and natural beauty. Here are all viewpoints to consider for your future explorations:
Circuit de les Fonts viewpoint
Coll de Jou viewpoint
Coll de la Botella Vantage Point
Coll d'Ordino Vantage Point
Collet de Montaup viewpoint
El Planell d'Encodina viewpoint
Els Cortals d'Encamp viewpoint
Encamp viewpoint
Grau de la Llosa Vantage Point
La Comella viewpoint
La Font de Besurt viewpoint
Church of Sant Cristofol d'Anyós
La Font de la Navina viewpoint
La Roca de la Sabina viewpoint
Pont de la Margineda viewpoint
Port d'Envalira Vantage Point
Prats de Gavatx viewpoint
Sa Calma viewpoint
Sant Jaume d'Engordany viewpoint
Sant Romà dels Vilars viewpoint
Vall d'Incles viewpoint
Each of these viewpoints promises a unique experience and an opportunity to immerse yourself in the natural beauty of Andorra.
Andorra´s ´Selfie Pals´
The Principality offers 35 "selfie pals" across its iconic locations. Place your phone on the stand, set the shutter, and strike your pose. Whether exploring Vall d'Incles or sites like Bons d'Encamp or Sant Cristòfol d'Anyòs, stands are conveniently placed. From viewpoints to the city center, there are ample selfie chances to capture Andorra's beauty.
The best part? It's a family-friendly activity! Kids mark spots on the map, adults snap memorable photos. Charge your mobile, rain or shine, for a delightful family outing to capture Andorra's finest selfies.
Where to Stay in Andorra?
In addition to the views mentioned here, Andorra boasts many more stunning locations that are waiting to be discovered. So, whether you're an adventure seeker, a nature lover, or simply someone who appreciates beautiful landscapes, Andorra has it all. Need some help looking for a perfect place to stay during your trip? Check out our airbnb´s in Andorra or our ski chalet in Andorra.
From the KOKONO team, we hope to be part of your journey and to see you soon in this land of unparalleled beauty!