Nestled in the stunning Pyrenees Mountains between France and Spain, this small landlocked nation offers plenty of outdoor fun – especially when it comes to biking. The Vallnord Bike Park in Andorra is one of the most popular summer attractions where people of all ages can take full advantage of some of the best downhill biking trails around. Read on to find out more about unique places to stay in Andorra, what makes the Vallnord Bike Park so special, and some tips on how to make your vacation here one to remember!
Summary:
The Best Bike Trails in Vallnord
Vallnord Bike Park is a prominent biking location in Andorra's northwest. The park has paths for riders of all skill levels, from beginners to specialists. Vallnord has something for everyone, whether you want a leisurely ride through the gorgeous scenery or an adrenaline-fueled downhill descent.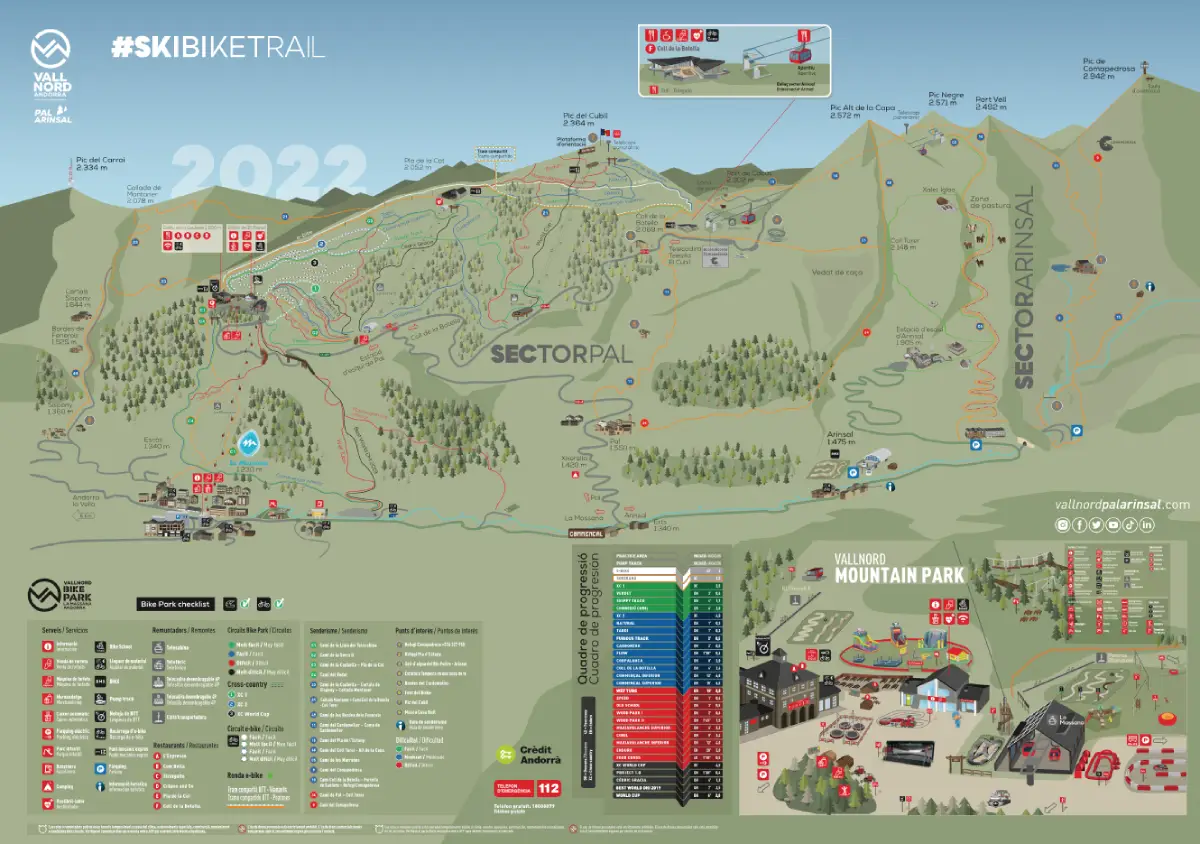 Vallnord Bike Park Circuits
Andorra's Vallnord Bike Park is a world-class mountain biking destination that draws riders from all over the world. There is something for everyone at Vallnord, with a variety of circuits accessible for all skill levels and interests. Let's take a closer look at the available circuits:
Circuits
Enduro
Downhill
Pump Track
Cross Country
e-Bike
Wood Park
Four Cross
Kids Bike Park
Visiting Andorra?
Looking for a unique experience & place to stay?
Book one of our holiday homes in Andorra!
Enduro Circuit: Enduro mountain biking requires endurance, speed, and technical ability. Vallnord's Enduro circuit challenges riders with a variety of terrain, including rocky descents, rooty sections, and fast flowing trails. The circuit is around 10 kilometres long and provides beautiful views of the Andorran mountains.
Downhill Circuit: World-famous for a good cause, Vallnord's Downhill Circuit. With steep drops, narrow turns, and large jumps, it offers some of the most difficult and technically complex downhill routes in the whole globe. There are several runs available to riders, each with a different degree of difficulty.
Pump Track: The bike park's Vallnord pump track is a special element that gives riders a chance to hone their abilities and increase their speed and control. The track is made so that riders may accelerate without pedalling by pumping their bikes through rollers and banked curves.
Cross Country Circuit: The cross-country loop at Vallnord is ideal for riders who desire a longer, more endurance-focused ride. There are a variety of challenging terrain and quick, flowing tracks on the 15 km-long course.
e-Bike Circuit: In order to accommodate the increasing number of riders who choose pedal-assisted bikes, Vallnord is one of the few bike parks in the world to provide an e-bike circuit. Riders may go at their own pace over the circuit's combination of fast, flowing tracks and challenging terrain.
Wood Park: The bike park's Vallnord's Wood Park offers riders the option to test their abilities on wooden obstacles including ramps, bridges, and drops. The park has attractions for beginners to experts, making it suitable for riders of all ability levels.
Four Cross: Four cross is an exhilarating and high-energy sport that requires competitors to race against three other riders on a custom-built course filled with obstacles such as jumps and berms. The four cross track at Vallnord is particularly popular among riders due to its demanding and thrilling nature.
Kids Bike Park: Vallnord wants everyone to be able to mountain bike, even kids. That's why they made a special park for them. The park has little versions of the big paths so kids can learn how to ride there without getting hurt.
With a range of circuits catering to different skill levels and interests, stunning mountain views, and world-class facilities, it's easy to see why it's a favorite among riders from around the world.
The Best Bike Trails to Check Out in Vallnord:
Whether you're an experienced cyclist looking for a new challenge or a beginner who's never ridden on two wheels before, Vallnord is the perfect place to enjoy some of the finest biking trails in Andorra.
La Carbonera
La Carbonera is a challenging downhill trail that starts at the peak of the Pal sector and descends 4.5 kilometres through rocky terrain, steep drops, and tight corners. This trail is recommended for advanced riders who are looking for a thrilling ride.
La Familia
La Familia is a nice trail that goes through the forest in Arinsal. It's not too easy, but not too hard either. The path is 4.5 kilometres and has exciting jumps, turns, and cool features. This path is great for bikers who want to push themselves and also take in the pretty scenery.
La Rabassa
La Rabassa is a trail for skiing or walking that begins at the top of Vallnord Bike Park and goes down through the beautiful Coma Pedrosa Natural Park. Intermediate and advanced riders can enjoy beautiful views of Andorran scenery on this path.
La Caubella
La Caubella is a trail that goes through a forest in the Pal sector. It's a fun and easy trail to ride on. The path has curves, bumps, and fun things that will make any rider happy. This path is good for people who are not beginners and know how to ride well.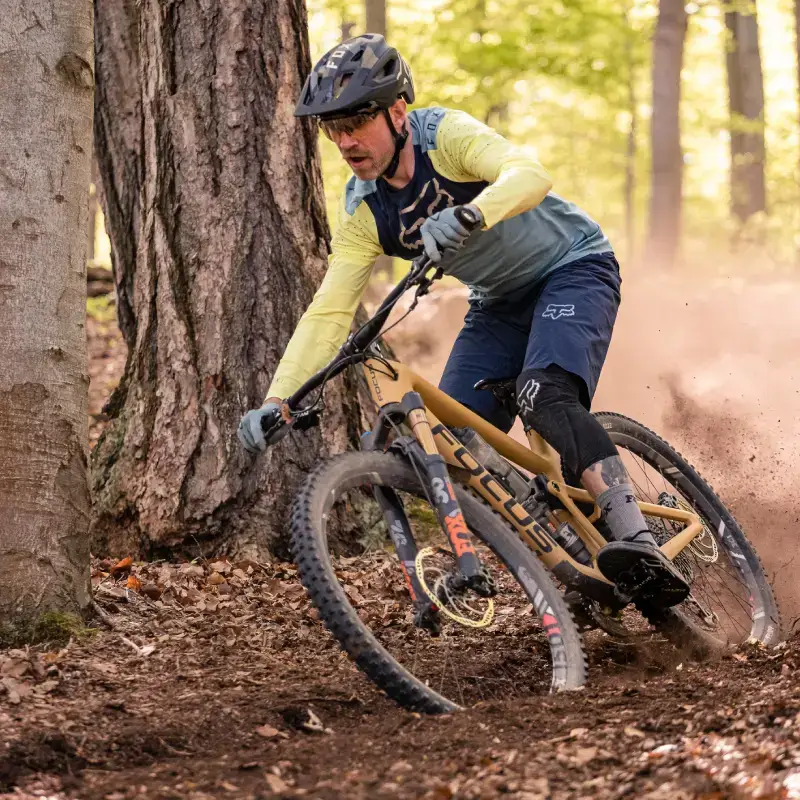 Biking Gear for Your Andorra Adventure
To enjoy your bike trip to Andorra, you must have the proper equipment. These are essential biking items you need to bring with you:
Mountain Bike
A high-quality mountain bike is a must for any biking trail in Vallnord. Make sure it is suitable for the type of trails you plan to ride. It is important also to be comfortable, take into consideration a proper body position, adjust your seat correctly and start the ride!
Helmet
Depending on the style of riding you will need to your head in case of a fall or accident. Look for a helmet that fits well and has adequate ventilation and that protects the lower back of the head.
Protective Gear
When it comes to biking in vallnord, safety should be your number one priority. Knee pads, elbow pads, and even gloves can provide an extra layer of protection against injury while riding.  With the right protective gear, you can reduce your chances of coming home with scrapes and bruises. Better safe than sorry!
Bike Repair Kit
It's always a good idea to bring a bike repair kit with you in case of any mechanical issues. The kit should include essentials such as spare tubes, tire levers, and a multi-tool.
Biking Tips for a Safe and Enjoyable Trip
Whether you're an experienced cyclist or a beginner, biking in Andorra can be both safe and enjoyable as long as you follow some important tips:
Know Your Limits
Pick trails that are suitable for your abilities. If you are new, start with simple paths and slowly move on to harder ones.
Stay Hydrated
Biking can be a physically demanding activity, especially in the mountains. Make sure to bring plenty of water and hydrate regularly throughout the day.
Check the Weather
The weather in the mountains can change quickly, so it's important to check the forecast before heading out. Be prepared for rain, wind, or cold temperatures by bringing appropriate clothing. To be prepared, don't forget to take a look at live webcam slopes.
Ride with a Buddy
If you're looking for an unforgettable outdoor experience with your friend, look no further than Vallnord Bike Park in Andorra.  Plus, going with a friend makes it even more enjoyable – especially if you take on some joint activities like downhill biking together! So grab your helmets and hit the slopes – an experience that you'll never forget awaits.
Respect the Trail
Remember to follow the rules of the trail, including staying on designated paths and respecting wildlife and other riders. Leave no trace and keep the trails clean for others to enjoy.
Information and Bookings
Contact details:
+ 376 891 815
Where is Vallnord Bike Park located at?
The exact address is:
Edifici El Planell, Pal. AD400 La Massana. Principat d'Andorra (Pal Sector, Bike Park & Mountain Park) (get directions)
Where to Stay When Biking in Vallnord?
Andorra is a paradise for biking enthusiasts, with its stunning natural landscapes and diverse trails. After spending a unique experience in Vallnord Bike Park in Andorra there is no better plan than relaxing in one of our unique places to stay in Andorra.
From the Kokono team, we hope to be part of your journey and to see you soon in…….!
CHECK AVAILABILITY
MORE EXPERIENCES