Despite being one of the smallest countries in the world, Andorra is also one of the most beautiful countries of the world. It offers many things, but the main thing to do in the little country of the Pyrenees is winter sports and ski holidays. Even if the country is small, when staying in Andorra it has a lot to offer.
With more than 400 km of slopes of all different levels, Andorra offers everything from incredible landscapes to ski resorts, lakes, thermal health spas and many more. It is one of the most beautiful natural landscapes in the world, where you can feel a lot of adrenaline as well as calmness during the cold winter season. The highland surroundings offer the possibility to do many activities in most of its country territory including many ski resorts in its different sectors. If you are wondering which ones, then read further and see the information below. 
Ski Holidays in Andorra – Andorra Ski Resorts
Grandvalira Ski Resort Andorra
Grandvalira is the biggest and one of the best ski resorts in Europe. It was founded in 2003, when two resorts were joined together. The resort consists of a total of 210 kilometres across 123 slopes of different kinds of levels: 
 14 • Green Slopes
 49 • Blue slopes
 41 • Red slopes
 19 •  Black slopes
There are the following 7 sectors that make up the resort:
There is easy accessibility to entering points, also available for people with limited mobility. The calmness of nature and the excitement of the diverse activities go hand in hand at this original resort that has a wide range of things to offer its visitors. Grandvalira is a paradise for snow activities in Andorra. 
For all information about this resort go to our Grandvalira Ski Resort article!
Pal Arinsal
Pal Arinsal is a ski resort located in La Massana, in the principality of Andorra. The ski station consists of two sectors, Pal and Arinsal. The ski resort offers 46 slopes and 30 ski lifts. It consists of 63 kilometres of slopes, and it is the perfect place to do snowboard activities for beginners and families who want to learn snow activities since there are two ski schools. 
Arinsal and Pal are linked by a cable car and offer a great variety of snow activities for all levels. Ordino-Arcalis is a 30-minute bus trip away, and there is a free ski bus that connects it to Arinsal and Pal. Pal-Arinsal has a wide variety of slopes with something for everyone. However, the main focus lies on beginners and families for developing their abilities. 
Overview of the Pal Arinsal Ski Resort;
Pistes:
7 • Green slopes
 15 • Blue slopes
 16 • Red slopes
 4 •  Black slopes
Other activities: Sledging/tubing, ski bikes, snowmobiles, paragliding, helicopter flights, bowling, shopping, eating out, après ski
Location: Carretera de Arinsal, AD400 Arinsal, Andorra  (get directions) 
Parking available at ski lift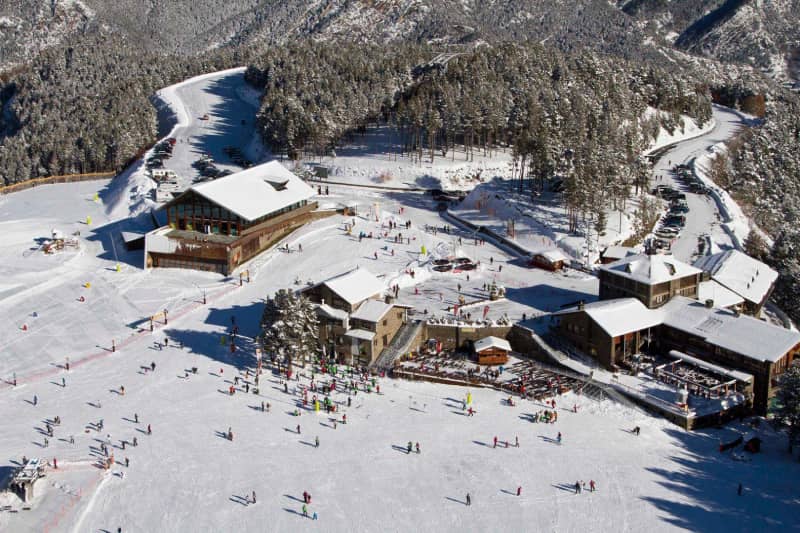 Vallnord Andorra
Vallnord is a ski- and snowboard resort in the Pyrenees mountains, close to the border with Spain at Tor, Pallars. The Vallnord ski resort is located in the picturesque valley's northwest of Andorra. The resort includes three main sectors, Arinsal, Pal, and Ordino-Arcalis. The resort offers a wide diversity of skiing and snowboarding activities in the three sectors. 
Arinsal is particularly family-friendly, and Ordino-Arcalis is known for its breathtaking slopes, snow record, and freeride areas. It offers the best skiing in Andorra. 
Visiting Andorra?
Looking for a unique experience & place to stay?
Book one of our holiday homes in Andorra!
The Vallnord ski resort provides 93 kilometres of slopes, 45 ski lifts, and a free ski bus linking Ordino-Arcalis to Arinsal and Pal. There are many snow parks, from which the largest one can be found in Arinsal, where freestyle riders can revel in kickers, rails, and boxes. 
The ski resort is perfect for skiers as well as non-skiers, since there are more than enough activities, such as helicopter rides and snowmobiling, whereas skiers can enjoy free riding.
Beginners, families, and intermediates will love the facilities in the sectors and offer a welcoming and fun experience. 
Overview of the Pal Arinsal Ski Resort;
Connected to three resorts 
Other activities: Sledging/tubing, snowmobiles, helicopter flights, eating out, après ski
Location: Carretera de Arinsal, AD400 Arinsal, Andorra  (get directions) 
Parking available at ski lift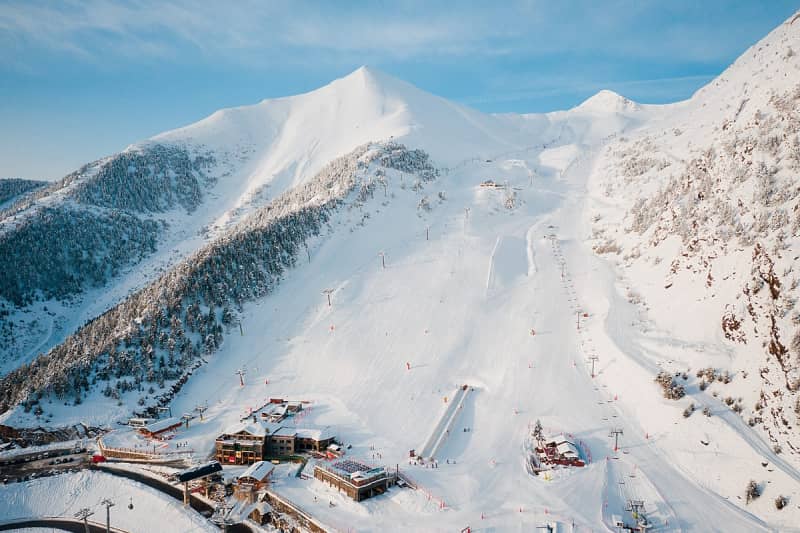 La Massana
The ski resort Pal/​Arinsal – La Massana (Vallnord) is located in Andorra. For skiing and snowboarding, there are 63 km of slopes available. 32 lifts transport the guests. The winter sports area is situated between the elevations of 1,550 and 2,537 m.
Pal-Arinsal is the second largest ski resort in Andorra. It is located in the municipality of La Massana. The lifts for the ski resort go up from La Massana and Arinsal and the ski resort is divided into two sections (Pal and Arinsal), which are connected by a cable car lift. The ski resort is part of the Vallnord ski resort association along with Arcalís, however, Arcalís is not connected to Pal-Arinsal.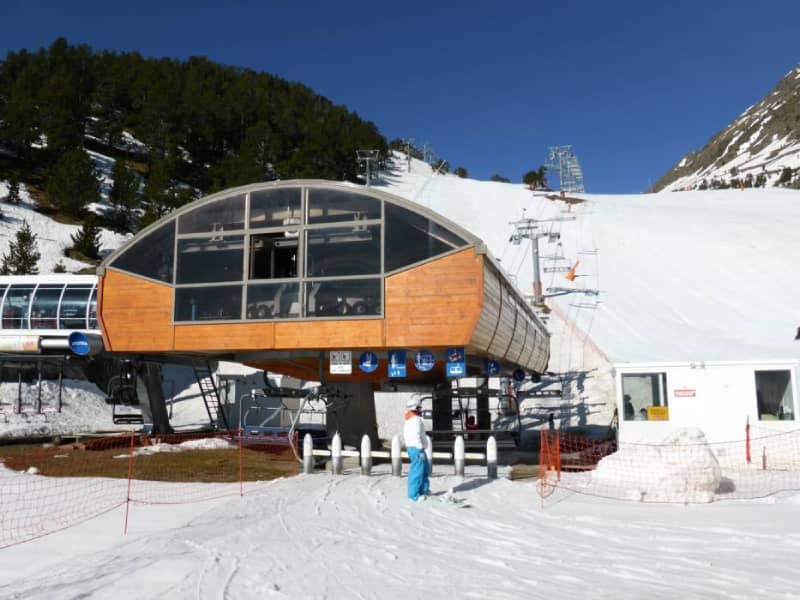 Ordino Arcalis Andorra
Ordino Arcalis ski resort is one of the most well-known ski resorts in Andorra and southern Europe. There are fewer kilometres of slopes compared to the other ski resorts, but there are many particularly unique aspects that make it the favourite place to ski and snowboard. For example, the fact that it is connected to Pal and Arinsal. The characteristics have to do with geographical positioning, resulting in breathtaking slopes for all levels with the best snow quality. Furthermore, there are chairlifts, ski lifts, and a gondola lift to better access every part of the sector. 
The Ordino Arcalis resort guarantees a good quality ski. This is mainly because of its location, being located in the northern part of the country with a high altitude, that outpaces 2,500 metres multiple times in the season. Also, because of the high location, the temperature is ideal for preserving the snow throughout the whole season. It is, among other things, the main reason why the ski resort gained its popularity.  
Whether you are a beginner, intermediate or expert, this sector offers activities for all levels in all colours. In addition, there are activities for children, such as the ski school for diverse ages. Also, in this station, there are many other services to spend the day in the snow with, such as snowmobiles, gicafer excursions, snowshoe routes, etc. 
Its 30.5 kilometres of slopes  and all the activities in Ordino Arcalis definitely make it worth a visit. 
Pistes:
 9 • Green slopes
 7 • Blue slopes
 11 • Red slopes
 2 •  Black slopes
Other activities: Snowshoes, snow mobiles, eating out, après ski 
Location: Edifici Hortell, Ctra. d'Arcalís, AD300 Ordino, Andorra (get directions) 
Parking available at ski lift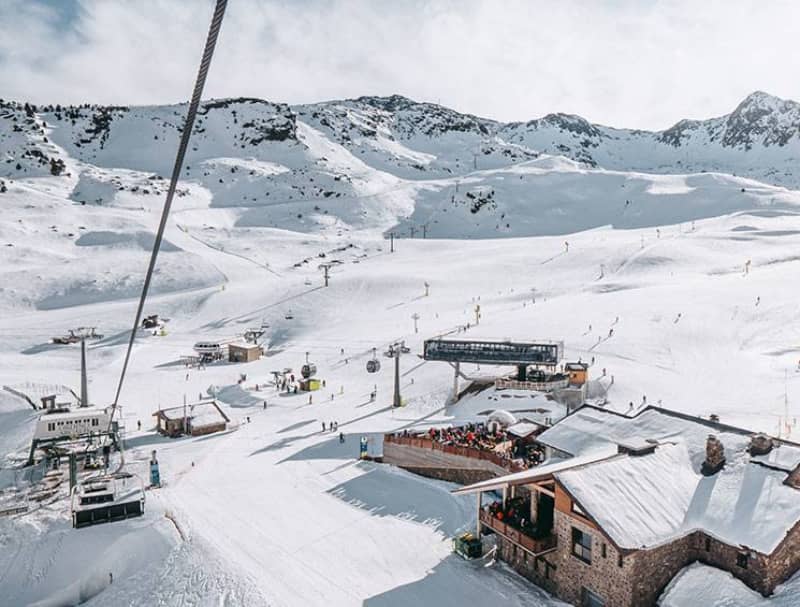 Canaro Andorra 
They have  two wide slopes for beginners with all the guarantees and comfort that every new skier requires, so that you can start off in the sport with peace of mind in a natural, specialised environment. Our snow cannons also ensure that the snow is in the very best condition for skiers.
In addition, they have an exclusive sledge run so that the little ones can finish their day of skiing in the most fun way, and they place their special sleds at your disposal for the safety of the children and your peace of mind.
At Ski Canaro they strive to make starting off in snow sports as easy as possible and to make it an enjoyable, fun experience that you'll want to come back to. For this reason, they have a free car park right next to the slopes. Forget about parking miles away and spending ages lugging skis with you! And to top it all off, they have restaurant services at the foot of the slopes. A terrace with a view of the slopes where you can take a break or simply watch your children, partner or parents get started in the world of skiing. And a hotel, in case you want to continue tomorrow. 
Other activities: Snowshoes, snow mobiles, eating out, après ski 
Location: Carretera General 2, AD100 Soldeu, Andorra (get directions) 
Parking available at ski lift
Naturlandia Andorra
The Rabassa Snow Camp in Naturlandia ski park in Andorra dates back to 1994 when the first 5 kilometres of the cross-country ski slopes were placed. In the next couple of years, it was expanded with 10 kilometres of slopes and facilities, such as the resort chalet. After, an adventurous snow park was built, with snow slides and machinery. Around the year 2000, there was a road- and parking access for visitors. 
The Naturlandia ski resort is in a great location. Being in Sant Julia de Loria is 15 kilometres from the border and in the mountains, the park has many outdoor activities. In the park, you can do snowshoe guided tours, cross-country skiing, nordic sled tours, sledding for kids, guided horse tours, motorbike tours, snowmobile tours, and there is a ski school. 
The station has a rental shop, a ski school, a cafeteria restaurant, a service area, a shop for the sale of technical equipment, a picnic area, and also offers free Wi-Fi throughout the station. The ski slopes of the La Rabassa-Naturland ski resort offer 15 kilometres of all levels.
In winter, you can enjoy the beautiful scenes of the mountainous landscapes the best by going on the Tobotronc slide, which is the largest alpine slide in the world. It is 5.3 kilometres long, which gives you the chance to see forest life such as animals that are native to the Pyrenean mountains. The ski park has different altitudes, activities at 1,600 metres above sea level, and the starting point of many other activities is at 2,000 metres above sea level. 
There are different types of passes for diverse activities. Their tickets are available online which makes it easy to avoid queues. There are so many activities to do in the ski resort, and it is family-friendly. All these reasons make the resort worth a trip. 
Location: Carretera General 2, AD100 Soldeu, Andorra(get directions) 
Parking available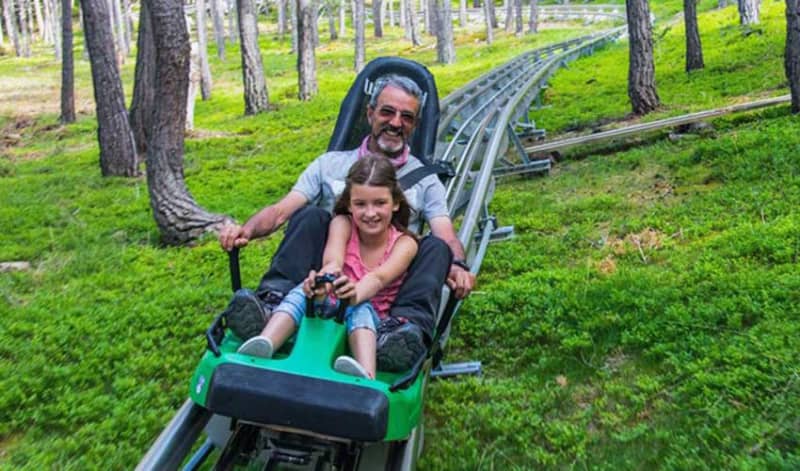 Where to Stay D
uring Your Winter Holidays in Andorra?
Are you excited about spending a snow winter holiday in the Pyrenees Mountains? When visiting Andorra,  there is no better and real experience than skiing with breathtaking views over the mountains and relaxing afterwards in one of our beautiful vacation rentals in Andorra.
We at KOKONO, hope to be part of your journey and welcome you soon to Andorra! 
check availability
more experiences