If you are a lover of the snow season and skiing, you will undoubtedly find staying in Andorra and Grandvalira´s Ski Resort a real treat.
If there is a ski resort that stands out in Andorra, it is definitely Grandvalira. The resort counts more than 210km of skiing slopes and trails, making it the largest ski resort in the Pyrenees mountains and one of the biggest in Europe.
The white country, or the little Pyrenees country as it is called, guards one of the most beautiful natural landscapes in the world, where you can feel a lot of adrenaline in winter. That mountainous environment offers the possibility to ski in most of its country territory; and despite being small, it has three big ski resorts.  
This article about Grandvalira includes:
What Grandvalira has on Offer for Snowlovers
Types of Ski Pistes
What makes Grandvalira and Andorra such a good place to visit, is the easy accessibility to its main entering points, also facilitating entry for people with limited mobility.
The resort counts with countless slopes for all levels of experience:
 14 • Green Slopes
 49 • Blue slopes
 41 • Red slopes
 19 •  Black slopes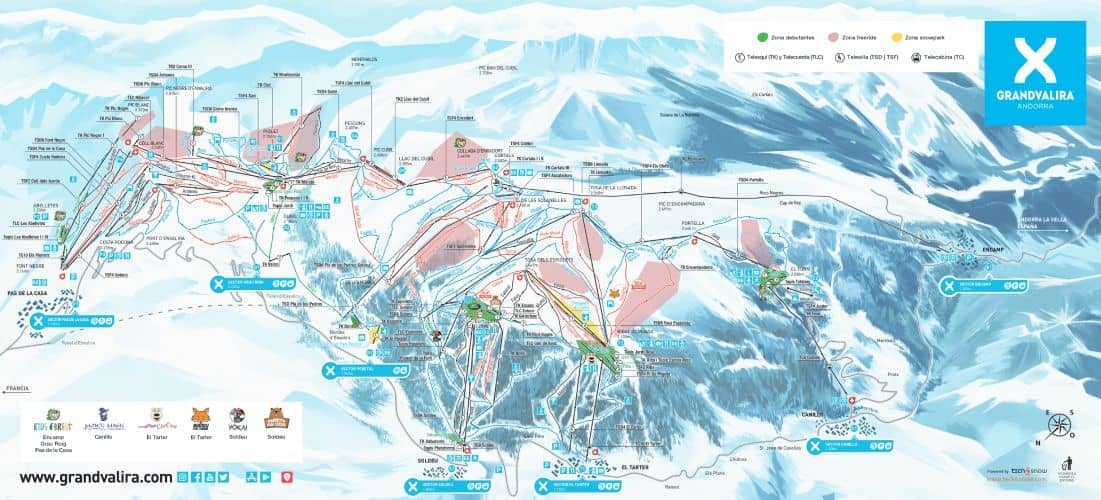 Map Grandvalira Ski Resort Andorra.
Facilities of the Ski Resort
The wide variety of activities the resort has to offer make it truly stand out from other ski resort in the region.
The list of activities include:

More than 200 km skiable pistes


Nurseries for the little ones


A total of 127 pistes for all levels


You will also find a snow park, even a night one!


Ski Academy with qualified instructors


More than 55 catering points

History of Grandvalira
Grandvalira was created in 2003 thanks to the long-awaited merger of Pas de la Casa – Grau Roig and Soldeu el Tarter, the two main Andorran ski resorts to date. Thanks to this union, Grandvalira becomes the largest ski area in the Pyrenees.
The investment and growth it has experienced over the last decade has made it one of the reference ski areas in Southern Europe. In fact, it has hosted several world-class sporting events and has 3 World Cup slopes!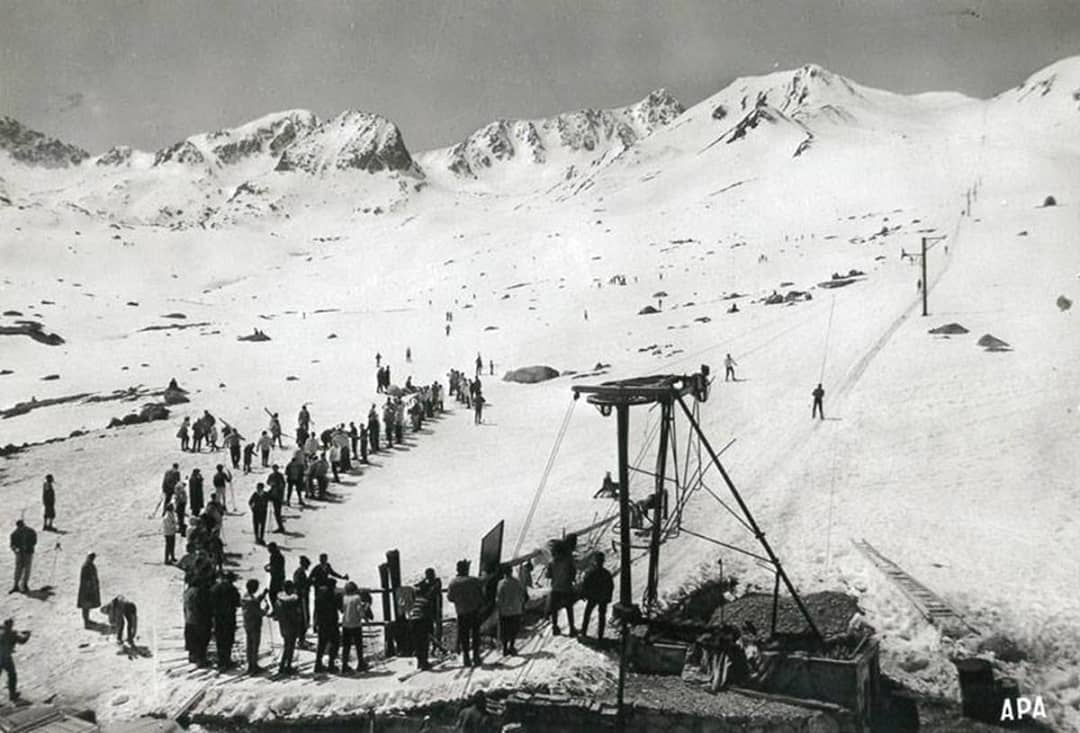 Grandvalira's Ski Sectors
Grandvalira is not only the biggest ski resort in Andorra and the Pyrenees but also is one of the largest ones in Europe.
Below we have listed the seven sectors that comprise the ski resort: 
Can't wait any further? Take a sneak peek at the ski slopes and mountains with our live webcams of Grandvalira, Andorra.
Encamp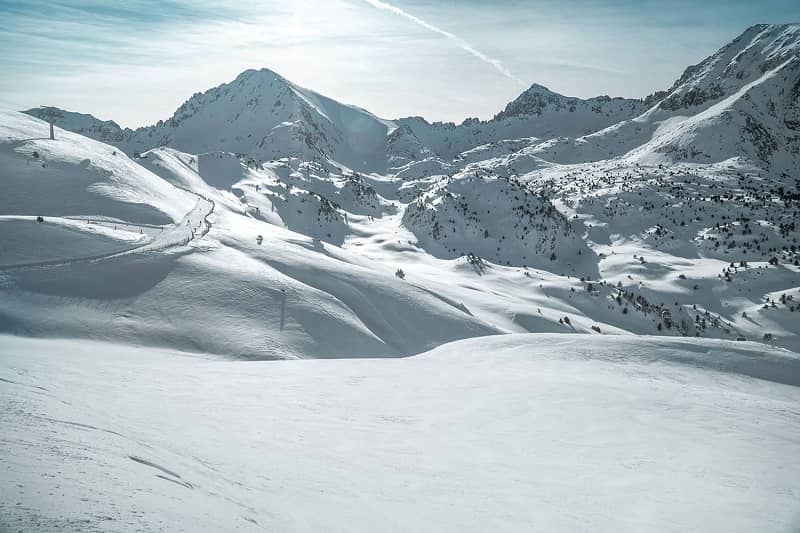 14 slopes for all ability levels
Routes cross-country skiing
Areas of free ride
Childcare Centers/Snow Gardens
The Encamp ski sector is the closest one if you're coming from Spain or Andorra la Vella. The cable car called Funicamp, which is one of the longest ones in Europe, connects the town of Encamp with the Solanelles area. In a matter of 15 min, you arrive at the top of the slopes, with scenic views of all the land and incredible nature.

Visiting Andorra?
Looking for a unique experience & place to stay?
Book one of our holiday homes in Andorra!
Canillo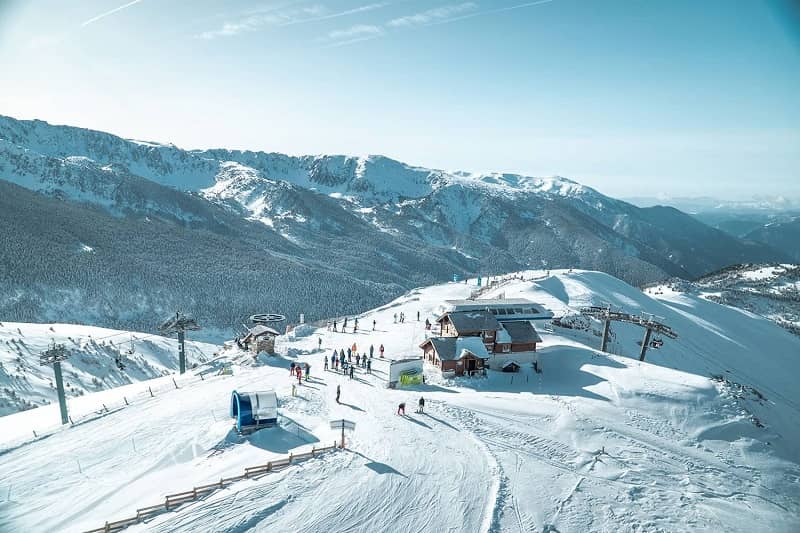 7 slopes for all ability levels
Areas of free ride
Childcare Centers/Snow Gardens
Canillo slopes are great for beginners and families who want to have their first snow approach. The calmed town Canillo, which names this sector, is the point of reference for accessing this area of Grandvalira. During the ski season, children can even have fun at Mon(t) Magic circuit and also enjoy the longest zip line in southern Europe. In the summer, there is Family Park, with lots of activities for children to have fun.

26 slopes for all ability levels
Routes cross-country skiing
Areas of free ride
Childcare Centers/Snow Gardens
El Tarter is perhaps the most exciting resort of the park since it was designed in order to be able to practice the most extreme sports. In 2016 it hosted the Alpine Skiing World Cup and you can have fun as well in the El Tarter Snowpark and in Bababoom Circus, the kid's sector circuit. The après-ski and restaurants here are just splendid, with a great offer to relax and as well to go to a concert and parties that you cannot miss.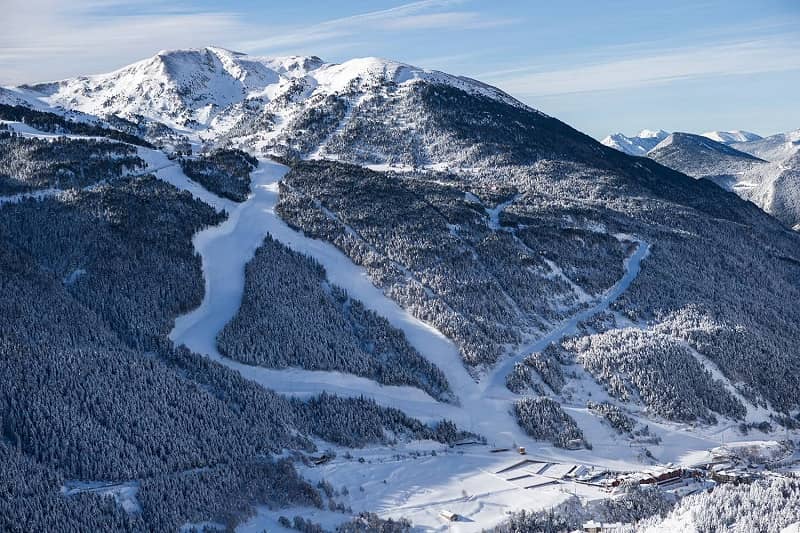 36 slopes for all ability levels
Routes cross-country skiing
Areas of free ride
Childcare Centers/Snow Gardens
Soldeu is located in the center of the other ski resorts. It offers wild slopes where snow lovers can feel extreme adrenaline and enjoy their favorite sport in an incredible landscape. It also hosted the  Women's Ski World Cup in 2012, which gave international recognition to the resort. Here you can find luxurious exclusive service hotels that lay right on the slopes, which is great for families.

Peretol
4 slopes for all ability levels
1 Snow Park Nightime
This sector is the newest addition to Grandvalira on 2019. Here you can find the Sunset Park Peretol by Henrik Harlaut which is one of the best snow parks around. To access the slopes of Pla de les Pedres you have to take on the longest chairlift in Andorra. Also, this sector parking has limited space, so there is the option to take on the free shuttle service for customers staying in another sector.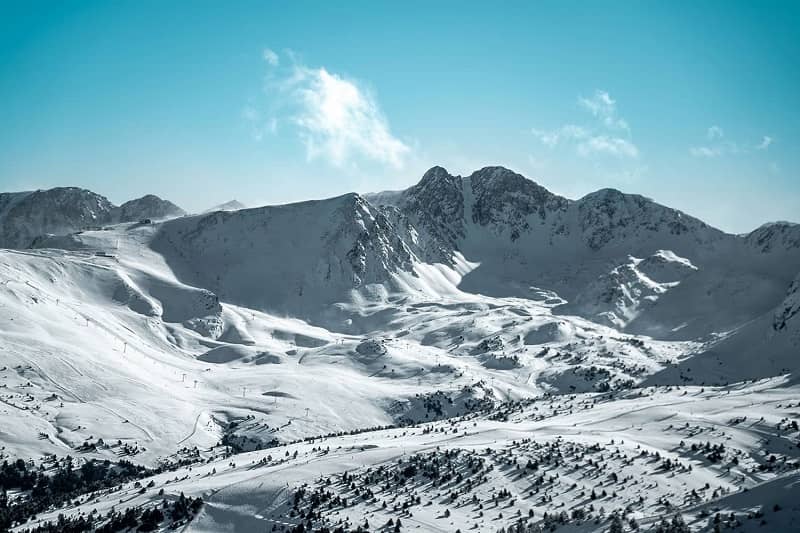 36 slopes for all ability levels
Routes cross-country skiing
Areas of free ride
Childcare Centers/Snow Gardens
The scenery and beauty of Grau Roig are beyond any words we could describe. It is perhaps one of the best spots in the country, which makes the fact of skiing here like being in a dream. It includes slopes for all levels, especially it is great for kids and beginners because it offers great facilities for them. It also hosted a world cup and there are many kilometers of free riding for the most experienced ones to enjoy on their own.

Pas de la Casa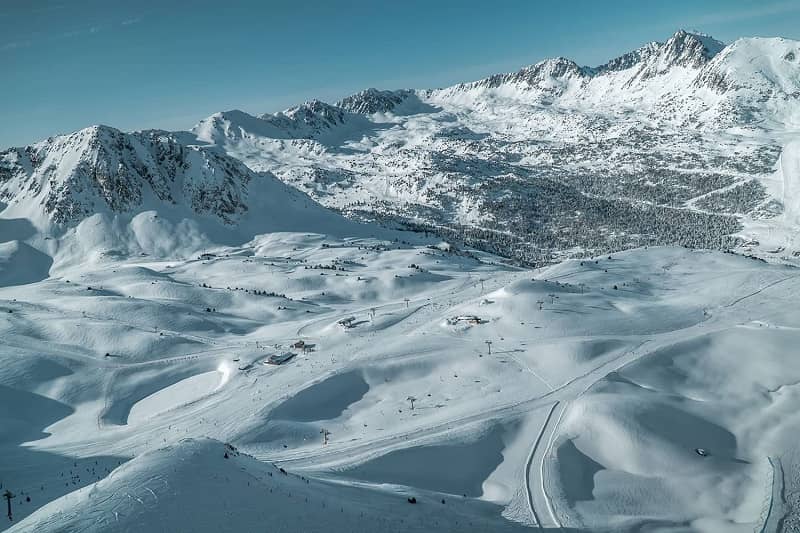 16 slopes for all ability levels
Routes cross-country skiing
Areas of free ride
Childcare Centers/Snow Gardens
Besides having optimum snow and conditions for skiing, this sector of Grandvalira offers slopes for all levels of experience. Apart from skiing and nature sports, at Pas de la Casa you can enjoy other things that the country's got to offer, especially it's great for shopping since it is considered one of the best shopping areas in Andorra. What's more, the young ones will love its big parties and nightlife after an intense day on the slopes.

Where to Stay when Skiing in Grandvalira?
Now that you know where to ski in Grandvalira, what are you waiting for to plan to stay in Andorra holidays! From KOKONO, we are looking forward to welcoming you!
check availability
more experiences