The Snowpark El Tarter is one of the first snow parks in Grandvalira and the Pyrenees. It is the perfect addition to an already exciting ski trip and stay at El Tarter and Grandvalira´s ski resort.
The Coliflor Snowpark opened only a few years ago in Andorra's biggest ski resort, Grandvalira and throughout all this time it has grown considerably offering long routes with routes and modules for all ski and snowboard sport levels.
This blog post will talk about everything you need to know about the Snowpark of El Tarter:
Features of El Tarter Snowpark
This Snowpark is considered to be one of the best ones in Europe, thanks to the push of this park to be a great place, with constant evolution and upgrading, has become a very complete Freestyle park, also known as Coliflor Freestyle, and a referent in the Pyrenees. With different levels of jumps, boxes, rails, and features according to each rider's preferences, it's a place for everyone. This park was specifically designed for you to progress step by step and for you to feel safe while skiing.
What Facilities will you find in the Tarter sector?
Modules |  Kickers |  Halfpipe |  Diff. Levels |  Adrenaline Area

Located at El Tarter ski sector of Grandvalira Andorra's ski resort, where the lovers of winter sports can enjoy, learn, evolve and progress in a completely safe way throughout an extension of 1.3km.
Lines: Beginner, Intermediate, and Pro.
Beginner line 400 meters long.
Intermediate Line 1,300 meters.
Pro-Line 400 meters.
Visiting Andorra?
Looking for a unique experience & place to stay?
Book one of our holiday homes in Andorra!
Hills: Upper part 4 hills intermediate-beginner level. The lower part 3 beginner level hills, 3 intermediate and high-level hills, 2 high-pro level hills.
Modules that make up the Snowpark:
Rails: Modular rails pack, 12m Gas Pipe, 10m straight round tube, 8m flat-tube rise, 2 large Pull Jumps, 2 small Pull Jumps, large diameter round tube drop kink 9m, Drop round tube kink stairs 8m, Double kink 12m, Drums, Tin and multi-sided Pyramid.
Boxes: Rounded initiation flat rise, initiation drop flat, wide flat drawer, wide dancefloor, flat drop, 8m flat drawer, 8m low drawer, Cocoon, 12m "Sambala" low pomp drawer, and large Wallride.
Adrenaline Area: Wooden modules in the forest next to the park for powder days, downhill climb, Pull jump, shed, Wallride, flat climb, and San Francisco.
New 2015: Modular Staircase (flat drawer – lowering, round tube rail, downward drawer with stairs), Rainbow initiation wide drawer, San Francisco initiation wide drawer.
Kickers: From 3m to 20m. Halfpipe: Length of 120 meters with walls of 3 m. We recommend you look up the different areas and select the one it adjusts better to your ski level. The staff in charge of safety will ensure that you have as much fun as you want to while enjoying practising your favorite sport. You can always check current snow conditions by watching the live webcams from Andorra, so you know what will your day be like at the snowpark.
Events at the Snowpark
And that is not all! There is always something going on at Snowpark El Tarter. There are freestyle camps, amateur competitions, branding events, and is even home to top-level international competitions like the Grandvalira Total Fight. So we encourage you to check this Snowpark that is right in the same town as one of our KOKONO Rental apartments.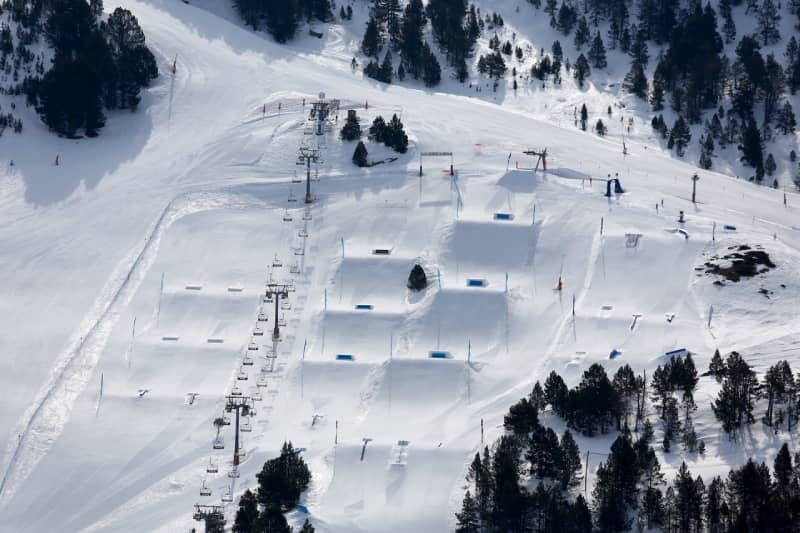 Where to find the Snowpark El Tarter
Coliflor Freestyle and the Snowpark El Tarter are located in El Tarter town and sector of Grandvalira, in the Principality of Andorra. You can also check ski rental options here. Parking station at Grandvalira Estació de Ski El Tarter, AD100 Canillo, Andorra.
The park can be accessed via the El Tarter Ski station:
Address: Coliflor Freestyle Center, Canillo, Andorra (Get Directions)
Where to Stay when Skiing in Grandvalira?
Now that you know where to ski and snowboard in the best Snowpark of the Pyrenees, in Grandvalira, what are you waiting for to plan your Andorra holidays! From the KOKONO Rentals team, we are looking forward to welcoming you when staying in Andorra!
check availability
more experiences